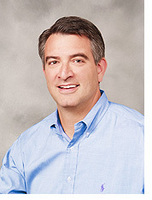 He challenges IBM to think differently and do more to help solve business problems.
Glenview, IL (PRWEB) April 3, 2009
Online payroll service SurePayroll today announced that CTO Michael Fineberg has been named a finalist for the Illinois Technology Association's Spotlight Award.
Part of the CityLIGHTS award program, the Spotlight Award is given to the chief information officer/chief technology officer for his or her leadership and outstanding contributions to his or her company's performance.
Nominees must:

Have transformed a company through innovative use of technology;
Show a keen sense in driving business value for the company; and
Play an active role in the local technology community.
As head of the technology team that introduced breakthrough Software as a Service (SaaS) payroll and HR solutions, Fineberg has been instrumental in helping SurePayroll achieve rapid growth and industry acclaim. At SurePayroll, Fineberg oversees all technology efforts, directing application development, maintenance, security planning, and network and infrastructure support.
"Michael Fineberg is a proven technology innovator," says SurePayroll President Michael Alter. "Under his leadership, SurePayroll has leveraged technology to reinvent the payroll processing industry. Our customers can run payroll anytime, anywhere, even through the convenience of their mobiles devices. ITA's recognition of Michael is a testament to his continuous creation of novel solutions that make payroll hassle-free for small business employers."
As industry competition has escalated, Fineberg and his team have drawn heavily upon customer feedback to help guide SurePayroll updates and new services. This methodology has allowed SurePayroll to stay ahead of competitors, winning numerous awards such as the coveted PC Magazine Editor's Choice Award. To continue SurePayroll's dominance of the online payroll market, Fineberg leverages his strong technology knowledge in tandem with his deep understanding of business processes and the small business market.
Fineberg says he's honored to be a finalist for the prestigious CityLIGHTS award and hopes to add valuable contributions to SurePayroll's technology initiatives.
IBM Client Services Representative Susan Dee says Fineberg has a unique talent for driving innovation and results through technology. "Like no one I've ever worked with before, Michael is able to crisply articulate how IBM can effectively partner with SurePayroll and best support his company's mission," says Dee. "He challenges IBM to think differently and do more to help solve business problems."
For the first time, members of Illinois' technology community are invited to cast their votes to help determine the winners. Voting is available through the event Web site at http://www.itacitylights.com and limited to ITA association members and gala attendees. Voting is open now and closes at 11:59 p.m. on April 8, 2009.
ITA will present the awards to the winners at ITA's 10th annual CityLIGHTS Gala on April 23 at Union Station in Chicago. All Illinois companies and executives are invited to attend the event, which promises to be the largest gathering of technology executives in the state.
"Year after year, CityLIGHTS nominees continue to raise the bar," said Fred Hoch, president of ITA. "We wish all of our finalists the best of luck as ITA members vote to help choose this year's winners."
ITA CityLIGHTS finalists are selected by a group of judges who represent various sectors of Illinois' business community. ITA selected the judges based on their experience in the field and ability to fairly evaluate each entry.
About SurePayroll:
Voted Editor's Choice for best payroll service by PC Magazine, a Top 100 Product by Accounting Today and winner of the Stevie Award for eCommerce Customer Service Team of the Year, SurePayroll is America's largest full-service online payroll service and honoree of the of the Inc. 500 Fastest Growing Businesses award two years in a row.
SurePayroll is passionate about small businesses and their payroll. The company is dedicated to providing an extremely friendly and simple payroll experience -- at a price small business owners can afford.
In addition to its payroll and ClickFREETM tax file and pay service -- which allows a user to complete the entire payroll process in minutes -- SurePayroll offers a suite of online services designed specifically for small business, including HR and compliance resources, 401(k) retirement solutions, health insurance and workers' compensation products.
SurePayroll also offers a private-label and co-branded payroll service to accountants and banking partners to offer payroll processing to their small business clients.
About the ITA:
The Illinois Technology Association (ITA) represents the interests of a diverse membership of more than 550 companies in Illinois that create, deploy and utilize information technology as a core part of their organization. By connecting members with industry peers and participants, providing the latest strategic information, market research and critical market insight and by promoting key thought leaders to raise visibility and gain a greater market awareness and presence, ITA is focused on building and developing the Illinois technology community through collaboration. Additional information is available at http://www.illinoistech.org.
###