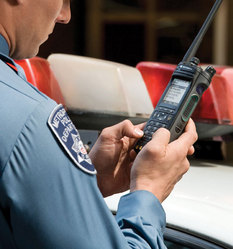 Portland, OR (Vocus) April 3, 2009
In order to submit the Byrne JAG local award application by the deadline of May 18, 2008, applicants must provide an opportunity for the public to comment on their Recovery JAG plan 30 days prior to submission. That makes April 18th the last day for public notification which may include website and newspaper postings, city council, and county board hearings open to the public. Applicants must also make the grant application available for review by the governing body 30 days prior to submission.
When President Obama signed the American Recovery and Reinvestment Act of 2009, it included almost $2 Billion in additional funding for resources for State and Local law enforcement. The Edward Byrne Memorial Justice Grant (JAG) is an annual grant and something most agencies are already taking advantage of. However, this year, the Byrne JAG program is a one-time infusion of stimulus funds that local law enforcement can use to support a wide range of programs.
Local and State Allocation Lists
http://www.ojp.usdoj.gov/BJA/recoveryJAG/recoveryallocations.html
Even if money has been allocated to a specific jurisdiction you still must apply for the funds.
Local Application and Instructions
http://www.ojp.gov/BJA/recoveryJAG/JAGrecoveryLocal.pdf
For assistance with the requirements of this solicitation, contact: BJA toll-free at 1-866-268-0079 or email jagrecovery@usdoj.gov. The email account will be checked hourly.
Motorola solutions can provide the basis for many grant proposals.

Interoperability solutions for every day use and especially during emergency situations. Motorola leads the industry in successfully deploying interoperable networks that span states, connect counties and municipalities and agencies within a municipality.
Secure, Wireless Broadband Networks enable mobile applications, even while driving at highway speed. Background checks, license plate look-ups and even email can now be done in the vehicle, improving officer safety and efficiency.
Mobile Computing Applications and Devices enable improved revenue generation and increase personnel productivity, often in less than 12 months.
Upgrade existing systems to include GPS capabilities to better track personnel and their proximity to an incident's location.
Act Now!
Deadlines are approaching. Submit your application now in order to take advantage of these newly released funds. Even if money has been allocated to a specific jurisdiction you must still apply. Contact Day Wireless Systems for more details.
Day Wireless Systems is composed of 28 locations throughout the West and 175 in technical staff. Since 1969, Day Wireless Systems has been providing professional wireless services for demanding commercial, government, and mission critical public safety systems, and is the largest Motorola Premier Service Partner and Manufacturer's Representative in the USA.
For more information, please visit http://www.daywireless.com
###