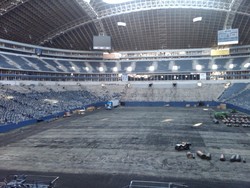 The seat removal process in Texas Stadium was a huge success
Irving, TX (PRWEB) April 3, 2009
S&S Seating today announced that they have completed the memorabilia stadium seat removal process at Texas Stadium and have shipped out all of the collectible stadium seats. S&S Seating began removing the Texas Stadium seats in the weeks following the Cowboys' final home game on December 20th, 2008, and completed the removal process on schedule.
Since its inaugural game on October 24th, 1971, Texas Stadium has been the home of the Dallas Cowboys and saw "America's Team" win five world championships, seven conference championships, and the setting of the NFL all-time rushing title for Emmitt Smith.
S&S Seating was contracted by the Dallas Cowboys to remove, box and ship the thousands of Texas Stadium memorabilia stadium seat pairs, which were sold to fans and collectors.
"The seat removal process in Texas Stadium was a huge success," said David Sprinkle, Vice President of S&S Seating. "We appreciate all of the help from the local Dallas-Ft. Worth area work crews involved in this project. We hope that all of the Cowboys fans that took advantage of this unique opportunity to own a piece of historic Texas Stadium enjoy their memorabilia stadium seats!"
About S&S Seating:
S&S Seating has been family owned and operated since 1996. In addition to memorabilia stadium seat removal from professional NFL & MLB stadiums, S&S Seating also offers used & refurbished chair-back seating to high schools and colleges to upgrade their concrete stadiums. Additional information on S&S Seating services can be found online at http://www.stadiumseating.net.
###