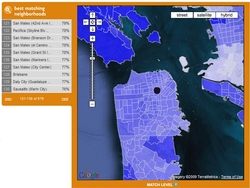 Woonsocket, Rhode Island (PRWEB) April 3, 2009
NeighborhoodScout.com, the search engine of neighborhood information, reported today that the number of visitors to the site more than doubled in the last 60 days. In March the site served 228,283 unique visitors and more than 1.2 million page views, up from 111,362 visitors in January, and 166,005 in February.
Much of the increased interest in the site has been due to NeighborhoodScout's new nationally comparable school ratings data. For the first time, these data allow parents, teachers and others to openly compare the quality of individual schools in different states.
The comparisons are made possible by NeighborhoodScout's patent-pending school rating algorithm, which uses each state's student passing rate on the National Assessment for Educational Progress (NAEP), a national test, to normalize the No Child Left Behind test scores at each school in all states.
Run by Location, Inc., a Rhode Island-based research firm, NeighborhoodScout.com is a search engine that combines patented search technology with one of the largest databases of location characteristics to automatically discover, map, rank, and compare neighborhoods that best match user-specified criteria.
After a user selects his or her criteria for a neighborhood, the search engine dynamically calculates the best matches. The technology provides exclusive information for uniquely defined neighborhoods just like true "locals" would use to describe their community. Although neighborhood data is available through various sources, with NeighborhoodScout, users can now finally make use of the data to instantly find and compare results that match their criteria and develop a complete and accurate picture of any location in a manner unmatched by other means.
NeighborhoodScout's patented search engine provides users a precise and flexible way to find a location that meets their needs through a variety of search tools. Users can search by choosing attributes including neighborhood and lifestyle characteristics, crime rates, school quality, investment potential, home values, etc. They can search using terms that correspond to major "life events" such as "first-time homebuyer," "college students," "family neighborhoods," "executives," "vacation homes" or "retirement." Or, they can search for locations based on similarity to another location (such as their own neighborhood), by simply entering an address or neighborhood name.
###