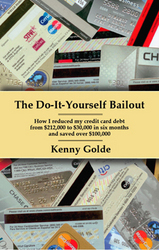 A Full Measure of Happiness.
Los Angeles, CA (PRWEB) April 4, 2009
In "The Do-It-Yourself Bailout," author/filmmaker Kenny Golde tells the story of how he reduced his credit card debt from $212,000 to only $30,000 in six months and avoided bankruptcy by negotiating settlements directly with major U.S. banks. The book relates the emotional journey that took him from the brink of bankruptcy to being nearly debt free. Golde's story is meant to provide others who are struggling with overwhelming credit balances with the tools to settle their own debt. Based on his personal experiences, Golde shares the secret to dealing with intimidating collection agency phone calls, offers valuable tips on how to settle a lawsuit, tells readers how to get settlement agreements in writing and shares many other lessons from the trenches of debt warfare. http://www.settleyourcreditcards.com
In this failing economy, there are a growing number of entrepreneurs and individuals who, like Golde, are forced to cover both business and living expenses on their credit cards. "I was overwhelmed," says Golde of the painful weight of his debt. "I was paying nearly $4000 a month in interest. I was afraid. I was ashamed. I withdrew from my family and friends. I couldn't see a way out of this debt."
Upon visiting a bankruptcy attorney, Golde learned that it was possible to negotiate settlements on his credit card balances, but after extensive research he found little helpful information that told him how he might do it. "All I found were companies who advertised they could do it for me for a fee," says Golde, "and it seemed they wanted me to believe I couldn't do it myself so that I would pay them."
Undaunted, he began negotiating with his creditors himself. In just a few months, Golde reduced his credit card balances by 85% and ultimately saved $115,000 in written-off debt. Among his successful negotiations, he settled one account with a $76,000 balance for $25,000 and another with a $39,000 balance for $15,000.
With the goal of helping others find relief from their unmanageable debt, "The Do-It-Yourself Bailout" presents consumers with an alternative to credit consultants and consolidators and empowers them to take on the banks themselves and potentially lower or eliminate their credit card debt without filing for bankruptcy.
Above all, Golde stresses the need to separate emotion and self-recrimination from debt, saying, "Every person out there is the C.E.O. of their own corporation, the corporation of 'You.' And you have the right to deal with finance and debt without emotion or judgment, the same way other businesses do."
CBS2 and KCAL 9 news in Los Angeles say, "If your are being buried by finance charges on all your credit cards, this book is a must read." CBS2 News.
"The Do-It-Yourself Bailout: How I Reduced My Credit Card Debt from $212,000 To $30,000 in Six Months and Saved Over $100,000" is available on Golde's website http://www.settleyourcreditcards.com and on Amazon.com.
Kenny Golde is a film director, writer and producer, novelist, photographer and public speaker. His recent film credits include the soon-to-be released "Uncross the Stars," starring Academy Award nominee Barbara Hershey and Golden Globe winner Ron Perlman and "The Job," starring Daryl Hannah, released through Lions Gate Entertainment. He wrote and directed for the Lifetime Television series "Intimate Portrait," interviewing dozens of celebrities and personalities including Quentin Tarantino, Billy Joel, Arnold Schwarzenegger and John Travolta. He has written two fiction novels, the Sci-Fi adventure "Apollo Main" and the recently completed historical drama "A Full Measure of Happiness." Golde lives in Los Angeles.
For book orders and speaking engagements, contact:
Kenny Golde
http://www.settleyourcreditcards.com
323 667-3214
###