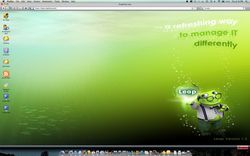 chose to create a bailout that really does work
Chicago, IL (PRWEB) April 3, 2009
Chicago-based managed web-hosting provider, SingleHop, Inc., announced today the release of the industry's most advanced rescue console Server Bailout System. The Server Bailout System allows for clients to boot servers into a troubleshooting environment to address issues such as password resets, virus removal, Windows registry editing, file restoration and more. The Server Bailout System is available for both Linux and Windows based systems and can be accessed directly within LEAPwebtop.
The system has the ability to:

Restore a server in the event that it is hacked or compromised.
Copy files out of the failed server into a safe location through FTP.
Run diagnostics on the hard-drive.
Under Windows, edit the registry.
Under Linux, install third party applications.
"Outsourcing hosting has its disadvantages, namely in that the client generally loses control over key systems. Our goal is to counter that by arming SingleHop clients with an array of tools and features that allow for them to remain in control. The Server Bailout System empowers clients when things go wrong to troubleshoot issues, rather than unnecessarily having to reload the operating system, or wait for a technician to troubleshoot the server," says Zak Boca, President and CEO of SingleHop.
Taking a queue from the current and questionably ineffective corporate bailouts, SingleHop "chose to create a bailout that really does work," as Daniel Salcedo, Communications Manger for SingleHop, put it when asked about the unusual name.
Luke Tworek, one of the lead developers, commented that, "to use, customers simply access their LEAP account and open the program right off of the web-desktop. In less than a minute they will have access to the server and can start working on troubleshooting any issues even when the hard-drive is unresponsive or severe errors have occurred. We are very excited about this new program, both in terms of making our technicians more efficient and continuing to empower our clients."
About SingleHop, Inc.
SingleHop, Inc., is a full service managed dedicated hosting provider that was founded on the principal of providing reliable, cost-effective dedicated services. The company was founded by Zak Boca in 2006 and currently hosts thousands of websites worldwide. The cornerstone of SingleHop managed hosting is the à la Carte Server Management Program, which is a full-array of transparent management services that were designed, and tested, to allow business customers to tailor their level of support to their needs or expertise. http://www.singlehop.com
###