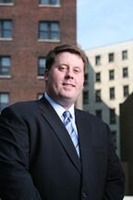 I am very proud that Gramercy Communications has emerged as a company that is reshaping the public relations and communications landscape in Upstate New York
Albany, NY (PRWEB) April 4, 2009
Tom Nardacci, Founder & Principal of Gramercy Communications , a boutique public relations firm located in Downtown Albany, New York, has been named to the "40 Under Forty" list of emerging business leaders by The Business Review.
Nardacci founded Gramercy Communications in 2005, after over a decade working as a senior public relations strategist, public affairs advisor, and communications manager in Albany, in New York City and in Washington, D.C. Under Nardacci's guidance, Gramercy Communications has become one of Upstate New York's up and coming public relations firms.
Gramercy Communications clients include several of the Capital Region's largest economic development projects. The Tech Valley based firm also works with energy clients, technology companies, corporations, associations and non-profits, and on issue-related campaigns. Gramercy has also won prestigious industry awards in recognition of client work, including a PRSA Empire Award for the best for-profit "Public Relations Campaign."
"I am very proud that Gramercy Communications has emerged as a company that is reshaping the public relations and communications landscape in Upstate New York," said Nardacci. "Our success is rooted in the successes we have achieved for our clients. Gramercy Communications clients are happy with the personalized service we provide and the creative approach we take."
Tom Nardacci is active as a volunteer in the Albany, NY area. Nardacci is Past President of the Public Relations Society of America, Capital Region Chapter and launched the successful "Wednesday Workshop" guest speaker series aimed at building PR skills. Nardacci serves on the Board of Directors of the Boys & Girls Clubs of Albany, and is Past Treasurer and Chair of the annual "It Just takes ONE" campaign. In 2007, he helped the Clubs raise over $100,000. Tom Nardacci also serves as a Member of the Town of Colonie Planning Board, one of the Capital Region's largest municipalities.
Thomas Nardacci earned his master's degree in strategic communications from Columbia University and his bachelor's degree in history from Syracuse University.
# # #