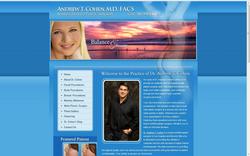 Beverly Hills, CA (Vocus) April 25, 2009
According to a study released last month by the American Society of Aesthetic Plastic Surgery, more than 10.2 million people received some type of surgical or non-surgical cosmetic procedure. Women made up nearly 92 percent of that figure, with breast augmentation being the most popular surgical treatment performed; and BOTOX® Cosmetic coming in as the most popular non-surgical option. These cosmetic enhancement treatments are two of the options that can be used in a Mommy Makeover, a procedure that is becoming one of the more popular requests at the office of Dr. Andrew T. Cohen.
While some new mothers have little trouble regaining their pre-pregnancy figures after childbirth, many others find it extremely difficult, no matter how much exercise or dieting they undertake. Dr. Andrew T. Cohen oversees a Beverly Hills plastic cosmetic surgery practice and is one of a growing number of doctors performing a procedure specifically designed for new mothers who are trying to restore their bodies. The Mommy Makeover is an aesthetic enhancement option that is becoming one of the more popular requests at Dr. Cohen's office.
Dr. Cohen typically performs the Mommy Makeover procedure for women who have recently had children and could benefit from surgical enhancement focusing on a few specific body issues. These include loose or excess skin and fatty deposits after pregnancy; breasts that sag or take on a misshapen, asymmetrical appearance; and areas of the skin that show stretch marks.
Depending on the areas of the body a new mom would like to improve, Dr. Cohen's Beverly Hills Mommy Makeover patients typically opt for a combination of procedures that include a tummy tuck, breast enhancement, and/or liposuction. While pregnant, the underlying abdominal muscles are often stretched and pushed apart, causing a lax aesthetic in the stomach region. A tummy tuck, or abdominoplasty, tightens these muscles and pulls the skin taut, giving the midsection a flatter appearance.
To address the common problem of excess, drooping skin in the breasts, Dr. Cohen often includes a breast lift or breast lift with implants in his Mommy Makeover procedures. The breast lift option eliminates the excess skin and tightens the breast area. Adding breast implants further improves contour by giving the bustline a fuller appearance and a breast size more proportionate to the patient's body frame.
One of the most common body contouring options used in a Mommy Makeover is liposuction. During pregnancy, isolated pockets of fat often occur in a variety of body areas. Liposuction addresses this by suctioning out fat deposits that don't respond to traditional weight loss methods.
Options like these can be combined into one procedure for a full Mommy Makeover, or spread out over a number of appointments to address them one at a time. The idea of a Mommy Makeover is to help new moms restore their appearance and boost their self-confidence, which can often decrease after the physical rigors of pregnancy have taken their toll.
Dr. Cohen also offers a number of other procedures, both surgical and non-surgical, as part of a Mommy Makeover that can help moms rejuvenate their skin and address other aesthetic issues brought on by pregnancy.
Andrew T. Cohen, MD is a board-certified plastic cosmetic surgeon in Beverly Hills. He practices at the Lasky Clinic in Beverly Hills, and is affiliated with Cedars-Sinai Medical Center in Los Angeles and Saint John's Hospital Medical Center in Santa Monica. He is a member of the American Board of Plastic Surgeons, the American Society of Plastic Surgeons, the American Society for Aesthetic Plastic Surgery, the California Society of Plastic Surgeons, and the Los Angeles Society of Plastic Surgeons.
Dr. Cohen can be reached at his Beverly Hills breast augmentation and plastic surgery office, located at 201 South Lasky Drive, Beverly Hills, CA 90212 – (310) 598-1466, or via his website at http://www.drandrewcohen.com.
###