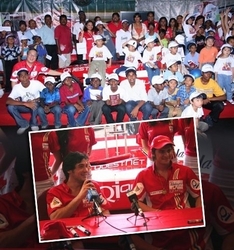 Realising dreams is what our Independent Representatives do and true to it, we try as much as we can to encourage children to aspire for greater things in life as well
New York, NY (PRWEB) April 3, 2009
Entering its 11th edition, the 2009 F1 Petronas Malaysian Grand Prix is the second round of a 17-leg world championship this season. QuestNet believes it will be the best ever Grand Prix this year with new exciting supporting events, including superstar Jamiroquai who will be performing in an open-air concert, new track experiences and an F1 drivers autograph session.
The purpose of the revamping the Sepang International Circuit (SIC) was in the hope of engaging more local Malaysian F1 enthusiasts and racing fans by giving them the opportunity to see first-hand what all the action is really about.
QuestNet, a proud sponsor of MY QI-Meritus.Mahara, currently participating in the GP2 Asia Series, continues to stay true to the 'Raise Yourself to Help Mankind' mission (which is also the slogan of its CSR arm RYTHM foundation) by giving away Formula One Grand Prix tickets to orphans from 15 homes around Kuala Lumpur, Malaysia. The F1 tickets were presented to the homes at a press conference event held by team MY QI-Meritus.Mahara at Amcorp Mall where 82 excited children received their tickets.
It was a poignant and heartfelt moment for the QuestNet Malaysia corporate team to be able to treat these underprivileged children with 600 free tickets to experience this adrenaline soaked racing event.
QuestNet Malaysia General Manager, Mr Navaratnam Velanadam, said that as the sponsor of team MY QI-Meritus. Mahara, QuestNet hopes to bring the racing event closer to Malaysian children from all walks of life.
"Activities involving children give us great joy. We will definitely continue our efforts to make
dreams come true for underprivileged children," said Navaratnam, adding that the company does
not stop with children. QuestNet also strives to help people from all walks of life realise their dreams and reach their full potential in life.
"Realising dreams is what our Independent Representatives do and true to it, we try as much as we can to encourage children to aspire for greater things in life as well," said Navaratnam. In line with this, QuestNet had also given away F1 tickets to students studying engineering in colleges located in the Klang Valley.
About QuestNet:
QuestNet Ltd is an international direct sales company and network marketing business that recently celebrated its 10th Anniversary as a market innovator and leader in its field.
Operating a global sales force, QuestNet offers a high-quality product portfolio consisting of consumable and everyday products, brand-name items, luxury and collectibles, personal care and wellness products, vacation packages, and telecommunications.
The company also provides business opportunities to millions of people around the world by offering entrepreneurial aspirants the opportunity to run their own business through an e-commerce platform, while providing the Information Technology knowledge and business tools for these people to succeed. The company also educates various governments and populations of developing countries about computer usage, Internet connectivity and e-commerce.
For more information, contact QuestNet at their Head Office:
47/F Bank of China Tower,
1 Garden Road,
Central, Hong Kong
Tel: +852 2827 1889
Fax: +852 2827 1833
Website: http://www.quest.net
###