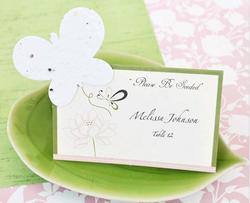 Fort Lauderdale, FL (PRWEB) April 6, 2009
The newest trend in nuptials is saving the earth, one wedding favor at a time. Modern brides are more environmentally savvy than ever; this fact, coupled with a desire to save money in an economic downturn, has many reconsidering the traditional logic behind the trappings of traditional weddings. If you need proof, eco-friendly weddings are listed as the fifth most popular wedding trend in 2009. Instead of thinking about the 'big day', brides are considering the big picture instead.
Brides thinking of a 'green' wedding, should consider the following tips to save the planet, and some cash as well:
1.Go digital: build a web page or use Facebook to announce your wedding and use a digital camera to take all of your wedding photographs. These tactics can reduce the paper used at the event and even save money.
2.Move the venue of your wedding reception close to the site of the wedding. Cutting down on the travel time.
3.Avoid wedding dresses made with non-biodegradable materials like nylon. Organic materials like cotton are more eco-friendly.
4.Choose environmentally safe wedding favors instead of metal or plastic favors. Many wedding favor vendors like PlanningPad.com now offer a diverse selection of green-minded wedding favors for brides. Of course, shopping for favors online is another way to reduce your wedding's carbon footprint. Wedding favors like plantable seed packets, biodegradable confetti and noisemakers, and items made from natural wood and stone.
About PlanningPad.com:
Planning Pad is an online shopping destination for unique, unforgettable wedding favors for destination weddings, extravagant ceremonies or simple celebrations. The store also carries a wide variety of bridal shower favors and wedding party gifts. PlanningPad.com offers a lowest price guarantee to match or beat competitors' prices.
###