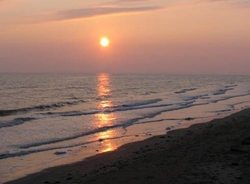 London, England (PRWEB) April 7, 2009
More travelers and veterans are heading to Normandy for the 65th anniversary of D-Day. The June 6 ceremony will be attended by President Barack Obama and other World Leaders.
London tour operator British Tours Ltd, London has carried more private groups to Normandy this year, far up on January to March 2008. Almost invariably, the parties have included a veteran; this year the youngest WW2 veterans turn 82.
The morning of June 6 1944, involved the largest invasion fleet ever known. Over 170,000 Allied troops crossed the English channel involving almost 200,000 personnel in the first operation of the Allied Invasion of Normandy to break the Nazi grip on Europe.
The British, American and Canadian allies landed at five heavily-mined beaches against a deadly onslaught of machine gun fire - Omaha, Utah, Sword, Juno Gold beaches. The invasion gained the Allies a foothold in Europe and was one of the war's defining moments.
The ceremonies will be attended President Obama of the US, Prime Minister Brown of the UK and President Sarkozy of France. During the presidential campaign, President Obama often talked about his family ties to World War II - his grandfather and great uncle served in WW2.
Normandy is one of British Tours Ltd's best connected destinations. British Tours Ltd travels to Normandy by train from London via Paris (minimum 3 days) and by private car, minibus or private coach from Paris Private tours can also start from Bayeux, Caen and the port of Le Havre.
The most dramatic option, though not the cheapest, is their private tour by twin engined plane from England which provides stunning aerial views of the invasion sights including St Mere Eglise, the first town liberated by the Allies, the landing beaches, Mulberry Harbour - "Port Winston" a vast harbour which protected the men and vehicles during the landings - and the Pointe du Hoc cliffs.
The ground tours include visits to Pegasus Bridge where many British soldiers lost their lives in a successful attempt to take the bridge, Arromanches, Omaha Beach, the almost 100 meter high Pointe du Hoc cliffs taken by US Rangers under heavy machine gun fire, and the Normandy American Cemetery at Colleville sur Mer. Time permitting the Caen Memorial.
For further information see Normandy Tours or contact Jason Doll-Steinberg Marketing Manager British Tours Ltd, London
###