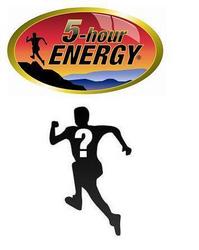 I don't know what the suits at the company were even thinking when they started this whole thing. What did I ever do to them? I could have been Scooter for gosh sakes
Novi, MI (PRWEB) April 7, 2009
Some have called it a colossal waste of time and bandwidth. Others have called it a marketing gimmick. Whatever you call it, the Name the Energy Guy contest is over, and the result shows the public's unwillingness to saddle 5-Hour Energy's silhouetted runner with a super embarrassing name when the opportunity presented itself. The Energy Guy remains The Energy Guy.
"It's been a tense time for me," said an obviously relieved Energy Guy. "Some of those nominated names would have been impossible to live with. Runny McRunfast? I'm not even Irish. It would have been a lot for me to give up my name on a shameless marketing gimmick."
In February, 5-Hour Energy hosted a contest on the 5-Hour Energy Fan Zone that encouraged fans of the two ounce energy shot to submit name suggestions for the logo's silhouetted runner. Over 600 name suggestions came in. The top five nominations - Dash, Marathon Mike, Powered Howard, Steve and The Energy Guy - were voted on by the public.
"I don't know what the suits at the company were even thinking when they started this whole thing. What did I ever do to them? I could have been Scooter for gosh sakes," moaned The Energy Guy. "Thankfully the good people who use 5-Hour Energy came to my rescue."
The Name the Energy Guy contest was just one of 5-Hour Energy's fan-focused activities. At the 5-Hour Energy Fan Zone, visitors can find additional contests, which reward winners with free 5-Hour Energy shots, as well as fan photos, stories, 5-Hour Energy Racing news, and much more.
About 5-Hour Energy:
5-Hour Energy is a two-ounce energy shot that provides hours of energy, alertness and focus, with no crash and no jitters. It contains a blend of B-vitamins and amino acids, zero sugar, and only four calories. It is available at retail outlets throughout the United States and Canada.
###