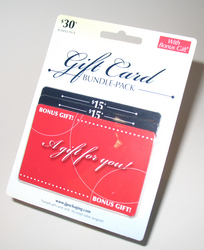 Consumers seem to prefer to get three ten dollar cards for their thirty dollar gift purchase opposed to a single thirty dollar card in a traditional single card offering
Sunman, Indiana (PRWEB) April 5, 2009
J&J Packaging launches their gift card multi-pack nicknamed "Bundle Pack".
In 2008 J&J Packaging developed a single-scan activated multi pack that was a first to the gift card industry. The timing could not have been better, as the media and many consumers questioned the viability of gift card giving compared to simply giving cash. Now tested and proven, J&J is making this package and service available to new clients.
Why a Multi Pack?
For the first time, the issuer of a gift card is able to separate their gift card from competitors by bundling their cards with special offers or value added features. The multi pack allows them to include a "bonus" card or incentive as a reward for choosing their product among the overwhelming choices of gift cards typically offered in a retail store. In addition, consumers have the chance to benefit from making a gift card purchase as opposed to simply giving cash.
In addition, 2008 results demonstrated that the bundled "multipack" carries more perceived value than a single card at the same price. "Consumers seem to prefer to get three ten dollar cards for their thirty dollar gift purchase opposed to a single thirty dollar card in a traditional single card offering," says CEO Bob Leitgabel at J&J Packaging.
To the pleasure of both gift card issuers and consumers, J&J Packaging is charging forward with several automated lines producing millions of multi pack packages for the 2009 gift giving season.
In an economy that was questioning the gift card giving for an assortment of reasons, J&J Packaging seems to have an angle that is making gift card issuers and buyers take a second look.
About J&J Packaging:
J&J Packaging is an established manufacturer of gift card packaging. They have leveraged their ability to manage data, provide paperboard packaging, thermoformed packaging and full service contract packaging to become a single source provider of all the parts needed to produce the gift card multipack. In addition J&J offers complete inventory and supply chain solutions that reduce lead-time and allow fast response to gift card packaging orders.
Media Contact:
Bill Morgan
800-446-4844
http://www.jjpackaging.com
###