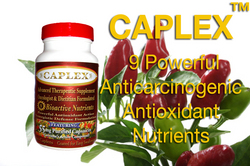 We have seen impressive changes in the growth rate of prostate cancer in patients who take Caplex and none of the patients taking it have noted significant side effects
Miami, FL (PRWEB) April 9, 2009
Millennium Bioceutics, announces the release of it's advanced nutritional supplement, Caplex, to cancer patients worldwide. Caplex contains a unique patent pending formulation created by an Oncologist and a Clinical Dietitian. The supplement to provide cancer patients a comprehensive source of the most effective anti-tumor nutrients and herbal compounds based on results accumulated from medical research.
Caplex contains 9 powerful cancer fighting nutrients including: Purified Capsaicin, Lycopene, Curcumin, Selenium, Vitamin D & E, Zinc and the Omega 3 Fatty Acids, EPA & DHA. Each of these compounds has shown effectiveness in scientific studies as nutrients with powerful antioxidant properties and the ability to slow and or prevent tumor growth. Now researchers are finding that the effectiveness of these nutrients is further enhanced when taken together, demonstrating an important synergistic effect amongst these nutrients. Caplex has a unique combination of nutrients that work together synergistically, providing a powerful cancer fighting formula. This gives patients an easier way to get the benefits of all these nutrients in one readily accessible source.
"We have seen impressive changes in the growth rate of prostate cancer in patients who take Caplex and none of the patients taking it have noted significant side effects," says Nancy Matsuura, Clinical Dietitian and Founder of Millennium Bioceutics.
Caplex offers an all-natural and well-tolerated treatment option for cancer patients and prevention regimens. As with all medications and nutritional supplements, patients should talk to their doctors prior to starting any new treatment options.
Caplex is now available online online at http://www.caplexsupplement.com and coming to leading hospitals and research centers throughout the US. Part of the proceeds go towards cancer research.
# # #