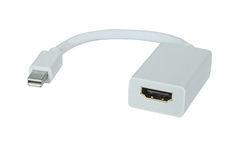 Brea, CA (PRWEB) April 6, 2009
Apogee Inc., manufacturer of AV and computer related products, is releasing the Mini DisplayPort to HDMI adapter. Along with the HDMI adapter, there are two other new adapters that will convert the Mini DisplayPort to VGA or DVI. The Mini DisplayPort adapters will be the first products released under the new Kanex™ brand by Apogee Inc. MacBook users with mini DisplayPorts can now rejoice for easy connectivity to any HD TV. With this new adapter, consumers can now connect their new MacBooks without the pain of getting another DVI to HDMI adapter to connect to their HD TV.
The Mini DisplayPort to HDMI adapter is version 1.3b and will be able to support resolutions of 1080p. As for audio, this adapter will pass audio through as long as the device you are using allows audio through Mini Displayport. There is no need for a separate audio output as this adapter is able to support DTS Digital, Dolby Digital DTS-HD and Dolby TrueHD. Currently, most Apple MacBooks may not support audio through Mini Displayport.
HDMI to Mini DisplayPort cables are currently non-existent since the DisplayPort is a relatively new connector. As a result, many Mac users are in need of these adapters to connect to their HDTVs. The MiniDisplayPort to HDMI adapter has created a lot of buzz among various Apple Mac forums and techie blog sites due to Apple not having this type of adapter available. Mac enthusiasts are constantly looking for updates regarding the product availability.
Back in December of 2008, Apple released a no-fee license for the Mini DisplayPort connector to encourage vendors to create more Mini DisplayPort compatible products. Using Apple's free Connector Implementation License, the Mini DisplayPort connector was made up to Apple specifications while the HDMI connector was built into this. Although audio may not be possible with the current Apple MacBooks, the adapter itself is able to pass audio if your source allows audio through the Mini DisplayPort.
Where to Buy
Products available:

Newegg.com, the second-largest online-only retailer in the United States, will be the first to exclusively distribute the Mini DisplayPort adapters. The award-winning website, http://www.newegg.com , offers customers a comprehensive selection of the latest high-tech products, detailed product descriptions and images, as well as how-to information and customer reviews. Newegg recently ranked first in customer satisfaction among online merchants in the ACSI Survey of University of Michigan and ForeSee Results.
About Us:
The new Kanex™ brand was established for the development of more computer related products as well as to meet demand in the emerging market of HDTV and PC integration. The Mini DisplayPort to HDMI adapter is the first in the future line of PC products for Apogee Inc.
###