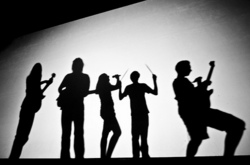 As soon as camp was over, I couldn't wait for it to start up again
San Francisco, CA (PRWEB) April 10, 2009
The Collective Sound (TCS) Music Academy's Summer Rock & Roll Music Camp - the world's first touring music camp - is coming to the East San Francisco Bay Area from July 26th to August 15th, 2009. Teaming up with Ex'pression College for Digital Arts in Emeryville, CA, youth, ages 12 through 18, will access the best equipment and people in the industry to write and record an original song, film a Music Video, create en EPK, and go on tour with kids from around the world as part of the Element Youth Movement CoOp (YMC) Tour. Housing, class and rehearsal space will be provided by Saint Mary's College in Moraga, CA.
Registration is happening now at http://www.thecollectivesound.com for all levels of musicians with a focus on guitar, bass, drums, voice, keyboard/piano and electronic music. All registrations before June 1st are eligible for a tuition discount.
About TCS:
The non-profit TCS's Summer Rock & Roll Music Camp is a three-week long music program providing youth from varying socio-economic backgrounds with an authentic experience in a variety of music genres. For over a decade TCS has been filling a gap in music education, with programming that emphasizes collaboration and creativity as well as technical and instrumental skills. It has worked together with industry leaders like Capitol Records, Volcom Entertainment, Sabian, the D'Addario Foundation, Gallien-Krueger, Gretsch Drums, Gibraltar, Dunlop, Roland, Digidesign, Yamaha, and Genz-Benz to give both boys and girls insight into today's music industry.
TCS is the first ever music camp to offer a tour component, happening in the third week of the camp as part of the Element Youth Movement Coop Tour - a collaborative art, music, and educational event put on in partnership with Element Skateboards.
"Much of what's taught in school music programs today is repetition of selected traditional music…with little emphasis on the collaborative process that is inherent in writing and performing. This isn't a bad thing, we just want to help take it a step further," says TCS Founder, Zac Smith. "For today's youth, technology has opened up many doors for developing creativity through songwriting and recording. To put it in context, the use of a sampler or software application is as relevant as, say, the use of a trumpet. Our goal is to present youth with an outlet for creative expression, utilizing tools readily available to today's musicians. Genre is really irrelevant, what us important is that they are developing their creative, collaborative, and technological skill sets."
Highlights from previous year's summer music camps include watching the kids work on a music video for award-winning Australian artist, Ben Lee, and the making of the Web Series "Let it Be Heard..." - The Story of the Collective Sound at: http://www.thecollectivesound.tv.
"As soon as camp was over, I couldn't wait for it to start up again," says last year student, Andrew Rywak.
For more information, visit http://www.thecollectivesound.com, email info (at) thecollectivesound (dot) com, or call 530-354-4045.
###