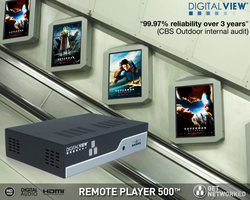 London, UK (PRWEB) April 7, 2009
Digital View, the digital signage and retail media specialist, has added a high definition 1080P/60 network media player to its solid state digital signage media player family. The Remote Player 500 is a digital video and digital audio player designed for 'bullet-proof' reliability, with full support for playlist scheduling and cost effective remote networking. Running off compact flash memory, the Linux-based player supports all major HD video compression formats (MPEG4, WMV & AVI) and professional digital audio.
Digital View made its name in the digital signage market selling more than 10,000 of its solid state Remote Player 300 boxes, the 'steel backbone' of many digital out-of-home networks including CBS Outdoor's Digital Escalator Posters in the London Underground, the Life Channel's 'Community Network', Simply Media's 'Salon Network' and Pharmacy Channel's 'Pharmacy TV'. The new Remote Player 500 offers the same host of features specifically targeted to digital out-of-home, digital menu board, interactive merchandising and digital advertising & billboard applications.
The Remote Player 500 supports crystal clear video playback with full playlist scheduling and control. The media players synchronize together to enable multi-screen implementations, it offers local interactivity options (such as button, touch screen and motion sensor interfaces) and its Linux operating system ensures trouble-free stability. The remote networking support offers full on-line playlist control and field compliance reporting through a cost effective solution provided through partner organisation Delivering Digital.
About The Remote Player 500:
The Remote Player 500 outputs crystal clear high definition 1080P media at 60 frames per second through HDMI, DVI, VGA, YPbPr, Composite, and S-video connectors. Supported codec formats include MPEG-1, MPEG-2 (PS, TS), MPEG-4 (DivX, XviD, AVC, H.264), QuickTime, Windows Media Video (VC1) with the following container formats (.mpg, .mp2, .mp4, .m2v, .tp, .avi, .mov, .wmv, .jpg, .bmp, .gif). Professional quality audio is surround sound compatible digital AC3/DTS via stereo line out at 44.1kHz, 224kbit/s.
The Remote Player 500 is a compact solution that measures 8.5 in (W) x 6.2 in (H) x 2 in (H) or 217mm (W) x 148 mm (D) x 52 mm (H) and weighs 1.2 lbs or 556g. It is an easy to use, 'unpack & play' solution with built-in linux operating system and media player software. It offers high reliability and an MTBF in excess of 100,000 hours. The unit comes with a 3 year warranty.
About Digital View Group:
Established in 1995, Digital View Group (http://www.digitalview.com) is a proven supplier of specialist electronics for the digital signage and retail media markets. The company has sold over 100,000 solid state media players, supplying not only many digital signage operators, but also brands including Proctor & Gamble, Nokia, L'Oreal, TAG Heuer, Hugo Boss, Unilever, Coca Cola, Philip Morris, Hasbro and Bosch..
In 2007 Digital View sold its Remote Transfer digital signage software division to EnQii Media. The company has sales offices worldwide in Morgan Hill, CA, London, and Hong Kong.
###