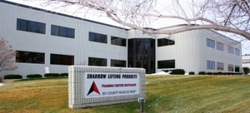 Like everyone else, we have certainly seen some slow down, and we have some obstacles to address
New Brighton, MN (PRWEB) April 7, 2009
Sharrow Lifting Products, a Minnesota based company that specialized in lifting products and overhead crane and hoist systems, is announcing an open house to celebrate moving into a newer facility. The open house will take place on Wednesday, April 15th from 9:00 am to 6:00 pm. The address of the new location is 301 County Road E2 West, New Brighton, MN 55112 and inquires and RSVP's should be made with Lynda Tysver at 651-925-5561 or ltysver (at) ccsharrow (dot) com.
Sharrow Lifting Products has grown significantly over the last several years and simply outgrew their old facility. The new facility is larger and is more conveniently located County Road E2 West, a half block west of 35W. In addition, this facility now incorporates an in-house training facility, where safety awareness seminars are conducted.
In these troubled economic times, it is rare to hear about companies expanding, but Sharrow Lifting Products, a 100% employee owned company has been doing just that. "Like everyone else, we have certainly seen some slow down, and we have some obstacles to address," said Bob Downs, President of Sharrow Lifting Products. "However, we believe it is important to celebrate this event and showcase our new facility which is not only more convenient for our customers, but more efficient for our operations. We believe this move has Sharrow positioned well to survive these challenging times, and we are confident that as the economy begins to turn our products and services will continue to be in strong demand."
Sharrow Lifting Products manufactures and sells "below the hook" lifting products such as slings, fittings, shackles and specialty lifting devices. Sharrow provides gear inspections, failure analysis, load testing services, and destructive testing services. Sharrow also inspects, repairs, and sells all makes of overhead cranes and hoists. In their new on-site training facility, Sharrow provides valuable, OSHA required, lifting product awareness training.
Sharrow is a 100% employee owned company located in New Brighton Minnesota. They have been in existence since 1952. Sharrow Lifting Products specializes in "below the hook" lifting products such as slings, lifting shackles, swivel hoist rings, and specialty lifting devices. They also specialize in crane and hoist inspection, repair and testing of lifting products and equipment, as well product awareness training. You can get more information about Sharrow Lifting Products by going to their website http://www.ccsharrow.com .
Open House Contact:
Lynda Tysver
ltysver (at) ccsharrow (dot) com
651-925-5561
###