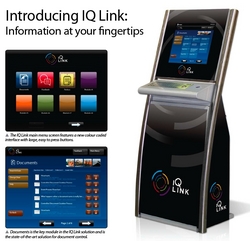 Wollongong, Australia (PRWEB) April 8, 2009
iQmultimedia today announced the imminent launch of IQ LINK, its new information-accessibility solution targeted at light and heavy industry.
IQ LINK automatically collects a broad variety of existing company information and makes it available to the workforce through a smart, user-centric interface. The design and development studio has announced IQ LINK will be unveiled in late April with a live keynote presentation.
IQ LINK allows users with no prior computer expertise and without personal access to a PC to access critical safety information, report issues on-site, and view current notices and advisories. Its dynamic framework allows for the production of new, custom modules per-customer, bringing all essential information into one accessible touch-screen terminal.
Its flagship document management module can integrate with existing document control systems including EMC Documentum, Microsoft SharePoint, Open Text Hummingbird and IBM Lotus Notes. Integration can be tuned to the specific needs of the customer and can be built around almost any existing system.
iQmultimedia is an established name in touch-screen kiosk software, with customers across Australia and the US. IQ LINK is iQmultimedia's third major information software, affirming the company's commitment to workplace safety.
###