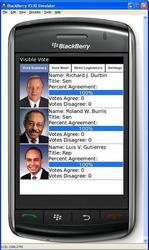 Chicago, IL (PRWEB) April 10, 2009
Visible Vote is a new application for Facebook and Blackberry that increases the transparency and accessibility of legislators voting records as well as provides Facebook and Blackberry users with a forum in which they can directly communicate with their elected officials.
Paul Everton, Visible Vote's founder, created the application to empower users to follow current events, understand their legislators voting records, and compare the records with their own personal belief systems. The application allows users to vote on the same congressional bills and compares the result with their legislators' voting history. Every week the application compiles the users voting record and sends this information to the appropriate legislator clearly indicating whether or not their constituents support or oppose their views on particular issues.
Paul Everton, founder of Visible Vote said, "The purpose of this application is to help increase transparency and accessibility of voting records -- thereby making elected officials accountable for their own actions. Visible Vote is intended to empower Facebook users to vote according to their own belief systems, assess whether their elected officials are voting appropriately, and communicate directly with them. The idea is to put the power back in the voters' hands."
Visible Vote has just launched a beta of its new Blackberry software. Visible Vote Mobile allows users without a Facebook account to have the same functionality of voting and updating their legislators. Users can even write their legislators personal messages from the Blackberry. The Blackberry software can by synced to Facebook to provide a seamless experience to the end user.
Visible Vote has already acquired 4,000 Facebook users and is currently running the beta with a 100 Blackberry users.
Facebook Application Info Page
Blackberry Beta Software Information
# # #