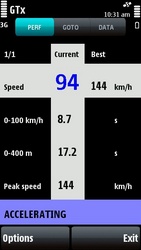 Helsinki, Finland (PRWEB) April 7, 2009
Tempes has released a new version of GTx performance measurement software for Nokia smartphones. GTx measures vehicle's top speed and acceleration (0-100 km/h and 0-400 m, or 0-60 mph and quarter mile, or any given speed range and distance). The new version adds support for Nokia 5800 and other S60 5th edition phones equipped with a touchscreen.
Tempes GTx V3.1 runs on S60 3rd and 5th edition smartphones and uses the phone's integrated GPS receiver or an external Bluetooth GPS receiver. Performance measurements are fully automatic and the software is extremely easy to use. GTx has been applied to measure the acceleration and top speed of all kinds of vehicles, from cars to motorcycles and from ATVs to snowmobiles. With GTx everyone can easily and economically measure the performance of his vehicle and the effects of tuning the engine.
GTx is also useful for basic navigation, as it gives direction and distance to any set destination. GPS data such as coordinates, altitude and compass can be displayed as well.
The price of GTx is 19 € (about $26) excluding VAT. A free demo version is available at tempes.com.
About Tempes:
Tempes is a Finnish software company specializing in S60 software.
For more information, please visit tempes.com.
# # #