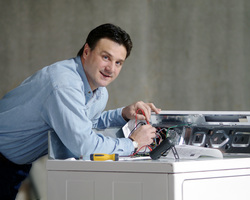 (Vocus) April 7, 2009
Economic stimulus. Bank bailouts. What next? How about "appliance bailout"! That's right. If you've got appliances, chances are they may need a "bailout"-- meaning you may be considering spending a large amount of cash to replace your appliance because it's not performing as it should. Some examples are: the dishwasher that never gets the dishes clean; the dryer that takes forever to dry your clothes; or the icemaker that makes smelly ice.
Below, RepairClinic.com is offering tips for avoiding appliance bailout, allowing you to hold onto your current appliances. For more complete details of how you can maintain or fix your appliances, go to http://www.repairclinic.com and click on "RepairHelp" where you can get more customized help with your appliances. Here are a few basic tips to get you started:
Refrigerator: The Smell of Lost Money -- If the ice cubes from your ice maker smell unpleasant or have a bad taste, consider adding a water filter to the inlet line to remove impurities from the water, and make sure you change it once or twice a year. Also, clean or replace the freezer's ice bin as it also may have absorbed odors over the years. Finally, remember to keep all foods tightly covered in the refrigerator, as odors will travel from the fridge to the freezer and can affect the quality of your ice cubes.
Washing Machine: Don't flood the market (or your house) -- As a proactive measure against potentially major leaks, replace the rubber inlet [hoses on washing machines] every five years, and for even more peace of mind, use stainless steel hoses.
Stove/Cooktop: Reset the Numbers -- Many gas and electric oven temperatures can be calibrated. If the oven has a knob control, often the knob can be pulled off and a dial on the back of the knob adjusted so that the knob is pointing in the right direction. This is a simple calibration and can solve problems within ~50 degrees. Electronically- controlled ovens often have a hidden calibration button or sequence of buttons that, when pressed in the right order, will allow the user to recalibrate the oven. The user guide may offer this information, or the manufacturer might be able to help, or you can go to the RepairClinic.com website and ask our RepairGuru® for help.
Dishwasher: Stay Afloat -- If something has slipped out of the dishrack and lodged itself underneath the float, this will make the dishwasher "think" it is full all the time. The result is that it will not allow any additional water to flow into the machine, even though it may run through the complete cycle. Remove any debris or utensils that may have fallen into that area to return your dishwasher to its normal function.
Microwave: Toxic assets? Clean your microwave and filters frequently. Food particles and splatters absorb some of the microwave energy while the unit is operating and may cause burns and other damage to the microwave. You can clean the interior with soap and water or diluted vinegar to help remove food odors. You should also remove and clean the filters--you can put them in the dishwasher. If they are too damaged to clean, order new ones from the RepairClinic.com website. Heavy duty cleaners for the microwave oven are also available.
Just like the economic bailout, if appliance repairs are not handled properly, a future bailout may be inevitable--not all appliances can be saved.
About RepairClinic.com
Now celebrating its tenth anniversary, RepairClinic.com® was founded in Canton, Mich., in 1999 and is the most comprehensive online resource for appliance parts, do-it-yourself appliance repair help and information. The site features more than 80 appliance brands--including Kenmore, Whirlpool, Maytag, GE, Frigidaire, and LG--across 16 appliance types (e.g., washers, dryers, refrigerators, stoves, ovens, and dishwashers). Do-it-yourselfers use the intuitive PartDetective®, to find the part they need or the leading-edge service, RepairGuru®, for customized, free repair help online. Appliance parts are stocked in a 72,000 sq. ft. facility and shipped the same business day. Visit http://www.RepairClinic.com for more information.
For media inquiries, contact:
Luanne Berk
PR Manager
RepairClinic.com
734-495-3079 Ext. 303
###