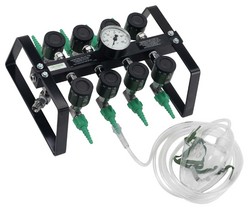 Western's new Octi-Flo2™ is an affordable oxygen manifold, that will allow you to care for eight patients at once
Westlake, OH (PRWEB) April 10, 2009
Western announces the launch in the U.S. and Canada of the Octi-Flo2™, Oxygen Manifold. Octi-Flo2™ is designed to help Medical Response Teams to care for multiple patients, in triage situations. "Western's new Octi-Flo2™ is an affordable oxygen manifold, that will allow you to care for eight patients at once," stated Julia Fisher, Medical Product Manager, Western Enterprises.
This lightweight system is portable and easy to use. The exact flow setting can be 'clicked-in' quickly with the Western's QuickClick™ technology. The Pressure Gauge, located on the manifold itself, will ensure that every patient is receiving the correct liter flow.
Octi-Flo2™ is an emergency medical device and is eligible for Government Funds. Contact FEMA or a local State Emergency Management Agency to apply: http://www.fema.gov/about/contact/statedr.shtm
Product Benefits:
-Flowmeters are individually controlled
-8 easy-to-read, click-style flowmeters from 0-25 lpm
-Pressure gauge on manifold
-Lightweight and compact durable aluminum and steel construction
-Affordable high quality craftsmanship for years of dependable service
Product Specifications:
-Standard DISS 1240 inlet and a 100 psi relief valve safety feature
-Cannulas, breathing masks, and compact carrying case included
-Product Number: MDM-8, MDM-8C For Canada
-Carrying Case is Included
Optional Components to Complete the Emergency Oxygen Delivery System
-0 to 100 psi Regulator
-DISS 20' Oxygen Hose, customizable to any size
About Western:
Western, a Scott Fetzer Company, is a national manufacturer and distributor of high quality medical gas control technology. Western has been on the leading edge of quality and innovation for over 55 years - carrying on its tradition of excellence. For more information, visit Western at http://www.westernenterprises.com/medica/index.html .
Julia M. Fisher
Product Manager
###