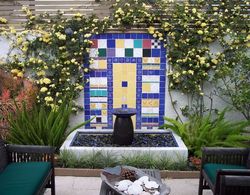 Lawn watering would be restricted to two days a week, Mondays and Thursdays, and could be cut to one day a week by summer if the drought continues
Mar Vista, CA (Vocus) April 7, 2009
The Mar Vista Community Council's Green Committee invites fellow Los Angeles area resident's to see what their water savvy neighbors in Mar Vista are doing to help combat the Southland's water crisis in the first community wide showcase of gardens throughout Mar Vista on Sunday, April 26th from 2 – 6pm. In an effort to help Mar Vista become a model community for reduced water consumption, the Mar Vista Green Garden Showcase seeks to encourage others in the community to be inspired by and to adopt the water saving solutions already in use by green trend setters. Free tours through dozens of Mar Vista gardens also offer the benefit of first hand experience and the expertise of those already committed to reducing their water consumption profiles through the adoption of drought resistant landscaping.
Calling the ongoing three-year drought a crisis, Los Angeles Mayor Antonio Villaraigosa called for severe water-use restrictions and a tiered rate system that would reward customers who conserve and punish those who do not with higher bills (Los Angeles Times 2/9/2009). "Lawn watering would be restricted to two days a week, Mondays and Thursdays, and could be cut to one day a week by summer if the drought continues," Villaraigosa said.
With so much at stake during this summer season's impending water shortage, the Mar Vista Green Committee has organized this first ever event in order to give Los Angeles area resident's a head start towards a beautiful and cost effective way to do their part to conserve. California native plants, succulent gardens and even raised bed vegetable gardens are just a few of the wide variety of beautiful and truly green approaches to be observed on the tour.
Go to http://marvistagreengardenshowcase.com/ for a preview of the gardens and a map of the locations to plan your own tour. Choose a walking, biking or driving tour, or select the gardens that showcase solutions that you are considering. Look for the flags with the MVCC logo in front of each house the day of the tour.
Mar Vista can make a difference!
For more information please email sherri (at) marvista (dot) org. Media is welcome.
###