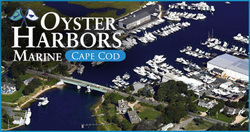 We wanted to do something different, generate some real excitement
Osterville, MA (PRWEB) April 10, 2009
Hearing "buy one, get one free" has been uttered so many times that it has lost all meaning to most Americans. When the phrase is heard, fast-food apple pies, bottles of shampoo, maybe entrees at the worst restaurant in town come to mind. It would take something pretty well extraordinary to punch through the consumer haze of buy-one-get-ones and factory rebates and cash-back offers. It might take something like this: buy one boat, get one boat free. But that's ridiculous.
Or maybe not. Oyster Harbors Marine, located in Osterville on Cape Cod, recently announced an unprecedented promotion. Buy a Maritimo, get a fully-rigged Regulator center console for free. Specifically, buy a 60-foot Maritimo Yacht, get a 26-foot Regulator center console with full electronics package and T-Top. Or, buy a 52 Maritimo and get a turn-key, fully-loaded Regulator 24CC.
"We wanted to do something different, generate some real excitement," said Peter Maryott, Vice President of Oyster Harbors Marine.
A powerful new contender on North American shores, Australian-built Maritimo Yachts are raising the bar for luxury long range cruisers, featuring an array of thoughtful and precisely engineered features: two double staterooms, two salons, two aft decks, two designer-styled heads, grand staircase, aft galley, enclosed skybridge with AC and opening windows, as well as a Juliet balcony. It would be hard to find any other cruiser that is easier to operate, maintain, or enjoy.
Renowned North Carolina-built Regulator center consoles have earned a reputation among discerning mariners as soft-running, agile performers, built to withstand any abuse Mother Nature serves up, in- or offshore.
To learn more about this incredible offer, visit Oyster Harbors Marine yacht dealer website, or call 877-244-4065.
###