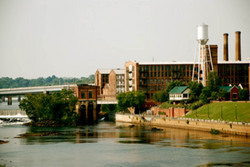 Having grown up in Columbus, Eagle & Phenix is one of those historic places that my grandfather told me stories about, so when I learned that it was being turned into lofts I jumped at the chance to be a part of the history
(Vocus) April 7, 2009
Columbus - Alee Morrison was born and raised in Columbus, Ga., but went to New York City to pursue a degree in photography. When she completed her degree in December 2007, Morrison's decision to move back to her hometown was in large part due to the "urban" loft she found at Eagle & Phenix. In the heart of Columbus and on the banks of the Chattahoochee River, Eagle & Phenix is an old cotton mill that has been a part of Columbus' history since 1851. Developed by W.C. Bradley Co., Eagle & Phenix has been reborn as airy lofts, retail shops and restaurants and grand gardens.
"Having grown up in Columbus, Eagle & Phenix is one of those historic places that my grandfather told me stories about, so when I learned that it was being turned into lofts I jumped at the chance to be a part of the history," said Morrison. "Moving back to Columbus from New York City was a huge change, but the 'urban' atmosphere of Eagle & Phenix solidified my decision to move home and provided me with the creative space needed to inspire my photography."
Morrison's airy one bedroom/one bathroom loft features the Oglethorpe floorplan and offers approximately 900 square feet of living space. Her favorite features of the home include expansive windows that provide an abundance of natural light and breathtaking views of the Chattahoochee River, natural wood ceilings with exposed beams and a balcony with a view of the sparkling river. Exposed brick walls in addition to the ceilings create an urban loft atmosphere while the gourmet kitchen with stainless steel appliances and black granite countertops gives the space a modern touch.
In addition to the loft itself, Eagle & Phenix's ideal location was a perfect fit for Morrison's lifestyle. "When I was looking for a home I knew I wanted to be near nature and having easy access to the Riverwalk allows me to experience firsthand the natural beauty that surrounds the Chattahoochee River. I also enjoy spending time with family and friends, so living within close proximity to local restaurants and entertainment was a must for me," said Morrison.
Home buyers have more than 20 unique floorplans to choose from at Eagle & Phenix and these beautiful riverfront condominiums are priced from the $150,000s. Once construction is complete, residents will have exclusive access to amenities such as an exercise room, on-site, covered parking, and a beautiful landscaped park dotted with architectural icons from the industrial era and an historic gazebo. Public access to the retail and restaurants and private access to the residences are separate and controlled. For more information, contact Leah Braxton at lbraxton(at)wcbradley(dot)com or call 706-571-3411, or visit Eagle & Phenix online at http://www.eagleandphenix.com.
About W.C. Bradley Co.
The W. C. Bradley Co. has been a leading corporate citizen and innovative business leader, participating in the development of the Columbus area since 1885. The Bradley Real Estate Division is a brokerage, development and investment company that focuses primarily in the Columbus, Fort Benning, Harris County and Phenix City, Alabama area. Presently, the W.C. Bradley Co. is working to realize redevelopment opportunities in the Columbus Uptown area by striving to offer in-town housing options where owners can enjoy the urban lifestyle. The Bradley Real Estate is heavily involved in the development of Columbus. Recent projects in residential development include: Brookstone, Treetops, Callaway Woods, Shamrock Glen and Maple Ridge. Recent commercial developments by WC Bradley include the Bradley Park Drive area, including Brookstone Centre and Bradley Park Retail. High standards and attention to detail has resulted in many accolades and awards for the W.C. Bradley Co. The most recent development, the Synovus Centre, a 125,000 square foot class "A" office building located Uptown on the banks of the Chattahoochee River, provides attractive office space for the growing industry. This facility is the first of its kind in Columbus, and has continued building the quality image that the W. C. Bradley Co. enjoys today. For more information, visit http://www.wcbradley.com.
MEDIA CONTACT:
Flammer Relations, Inc.
Amanda Winters:
770-383-3360x27
http://www.FlammerPR.com
# # #