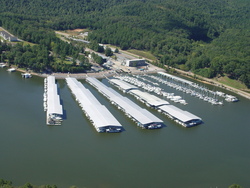 Iuka, MS (PRWEB) April 7, 2009
Aqua Yacht Harbor, a Flagship Marina facility located on the shores of popular Pickwick Lake in Iuka, MS, is making final arrangements for its annual In-Water Boat Show. Aqua Yacht Harbor and co-sponsor, Jim Bennett Yacht Sales, whose newly-renovated showroom is located at the marina's C-Dock, have arranged a full line-up of vendors representing all aspects of the boating lifestyle.
The event will feature boats, boating accessories, marine canvas, boat lifts, dinghies, personal watercraft, as well as real estate, financing and insurance. The two-day show launches on Saturday, April 18th at the marina, and wraps up Sunday evening. Show hours will run from 10 a.m. to 6 p.m. both days.
On Saturday, Aqua Yacht Harbor will launch the show with its famous crawfish boil at 12 p.m., and there will be live entertainment from 11 a.m. to 3 p.m. For further details on the event, visit Aqua Yacht Harbor, then click on "Aqua Yacht Harbor."
###