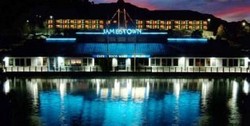 Jamestown, KY (PRWEB) April 7, 2009
Jamestown Resort and Marina, a 300-acre recreational paradise on magnificent Lake Cumberland, in the heart of Kentucky, is one of seven marinas under the Flagship Marinas brand. Lake Cumberland, an artificial lake created primarily for flood control and the generation of hydroelectric power, and the ninth largest reservoir in the country by water capacity, has undergone significant water level lowering to allow repairs to the Wolf Creek Dam.
The marina recently announced that it will be hosting the Lake Cumberland Grand Prix, an offshore powerboat racing event on the Offshore Super Series (OSS) circuit, May 15 to 17. Event organizers have projected that the Grand Prix will draw as many as 20,000 spectators, and will be televised by the Fox Sports Network.
It's expected that the Grand Prix, and an array of other events on Jamestown Marina's 2009 will go a long way toward re-establishing Lake Cumberland as a prime vacation destination in the Bluegrass State. For further information on the OSS events, visit Offshore Super Series. To find out about Jamestown Marina, to make reservations, or to learn more about the resort's world-class facilities, visit Jamestown Marina, then click on "Jamestown Marina and Resort."
###