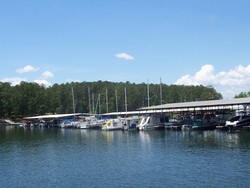 Appling, GA (PRWEB) April 7, 2009
Staff at Trade Winds Marina, as 206-acre marina and resort on the shores of J. Strom Thurmond Lake in Appling, GA, has been concerned about consistently low lake levels over the last three years of drought conditions. Strom Thurmond Lake, also known as Clarks Hills Lake, is a manmade 71,100-acre waterbody bordering Georgia and South Carolina on the Savannah, Broad and Little Rivers.
According to Trade Winds General Manager, Curtis Justice, recent rains have contributed to significant rises in water levels. As of April 1, the level was at 324.5 feet, just 5.5 feet below full pool, and up an impressive 12 feet from levels this past winter. All hands are cautiously optimistic that weather patterns are changing, and that the lake might soon approach full pool.
For further information on Trade Winds Marina facilities and amenities, visit http://www.flagshipmarinas.com, then click on "Trade Winds."
# # #