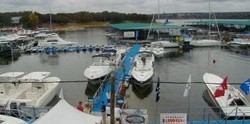 Austin, Texas (PRWEB) April 7, 2009
Emerald Point Marina, a full-service marina and resort on the shores of Lake Travis, 20 miles from downtown Austin, TX, has long held the reputation as a prime party spot. Carlos 'N Charlie's, a waterfront restaurant and bar located on the Emerald Point grounds, draws huge crowds during the spring and summer months for a full schedule of concerts and other happenings. This year, Carlos and Charlie's has agreed to host the popular Austin Volleyball League, and has recently completed full renovations on their beach volleyball courts. Renovations included the installation of a new base, new drainage, new sand and courtside lighting for after-dark matches. Yet to be determined is the full line-up of concerts the venue will host through the summer months.
Emerald Point members and newcomers looking to enjoy the Lake Travis boating and nightlife experience this season can find the full Carlos N' Charlie's line-up, as well as information on Emerald Point's top-flight facilities, by visiting Emerald Point Marina, then clicking on "Emerald Point" and following the link to the Carlos N' Charlie's website.
# # #