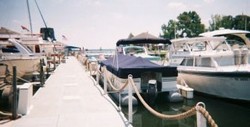 It's a lot of work
Montgomery, TX (PRWEB) April 7, 2009
Tucked away on the tranquil shores of Lake Conroe in southeastern Texas, Walden Marina has a long and well-documented commitment to preserving home waters. In 2000, the near-500-slip facility went through the complicated process to become a certified Clean Marina through the Marina Association of Texas. It has maintained that certification for nearly a decade, during which Walden has also secured the prestigious Marina of the Year Award once, and the Clean Marina Award three times.
Ms. Allison Harpold, Walden General Manager, and a three-year veteran Board Member of the Association, takes pride in her marina's commitment to the environment. "It's a lot of work," she said, "but it's also beneficial to the marina. Customers appreciate that we're taking the time to educate them, and taking responsibility for preserving the environment and the water they're swimming in."
From a state-of-the-art pump-out facility to a monofilament fishing line recycling program, Walden Marina is leading by example, and is in fact the only certified Clean Marina on Lake Conroe that's open to the general public.
For further information on Walden Marina's services and amenities, visit Walden Marina and click on "Walden Marina."
###