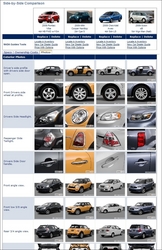 Researching new and used cars should be an informative and exciting experience. The research tools developed at NADAguides.com not only provide timely information, but the details needed to make an informed car purchase
Costa Mesa, Calif. (PRWEB) April 10, 2009
NADAguides.com, the leading provider of pricing information and market research for new cars, used cars, classics, RVs, motorcycles and boats, announced it has completed the final development of its industry-leading research tools. These exclusive tools allow consumers to do more Vehicle Comparisons, determine Total Cost of Ownership and to conduct the most Comprehensive Vehicle Search on the internet. No other automotive web site can provide the same kind of data rich content for consumers.
"Researching new and used cars should be an informative and exciting experience. The research tools developed at NADAguides.com not only provide timely information, but the details needed to make an informed car purchase" said Michael Caudill, spokesperson for NADAguides.com. "All of the tools available on our site are designed to fulfill one common purpose - to help the consumer find the vehicle that best fits their needs and budget."
Vehicle Comparison:
One of the features that truly sets NADAguides.com apart from its competitors is the powerful Vehicle Comparison tool. Using this tool, consumers can place up to four new and/or used vehicles side by side to compare different makes, models, trim levels, or years. The Comparison tool shows everything from dealer invoice price to differences in powertrain, dimensions, chassis, warranty and more. NADAguides.com offers this on every vehicle it profiles, from Acuras to Volvos and everything in between.
Total Cost of Ownership:
Several of the major costs associated with owning a vehicle are often disregarded, which is why NADAguides.com created the Total Cost of Ownership tool. NADAguides.com helps consumers with their new or used vehicle purchase by estimating just how much that vehicle will cost them over a five year period. The Total Cost of Ownership tool shows not just the cost of depreciation and financing, but also insurance, maintenance and opportunity costs for the vehicle.
Vehicle Search:
For the car buyer who isn't quite sure what car they want, NADAguides.com offers its comprehensive Vehicle Search tool that allows you to search by custom criteria like price, body style, manufacturer, MPG and more. The tool will identify all new and used cars that fit those criteria along with pictures and allow you to narrow down your selection.
The Comparison, Cost of Ownership and Vehicle Search tools helps to showcase NADAguides.com as one of the most comprehensive and data rich vehicle research sources on the Web.
For more information, please visit http://www.nadaguides.com.
For media information, please contact Ashley Garing, DRIVEN Media Communications http://www.drivenontheweb, 951-461-2429.
# # #