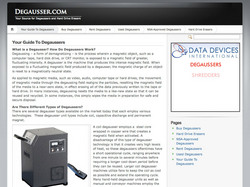 With technology advancing so rapidly, it's hard to know exactly what to do with a hard drive when you need to get rid of the data - especially when there are people on the Web recommending you get out your power tools
San Marino, CA (PRWEB) April 10, 2009
Data Devices International, a leader in the data security industry, has launched Degausser.com, a Web resource that provides information and educational resources about degaussers, hard drive erasers and other data security resources relevant to today's consumer.
"With technology advancing so rapidly, it's hard to know exactly what to do with a hard drive when you need to get rid of the data - especially when there are people on the Web recommending you get out your power tools," said David Partridge, President of Data Devices International. "We wanted to create a resource where businesses could easily find factually correct information about hard drives and data security. People can send us their questions and get real answers to real questions."
Degausser.com features more than technical information on the degaussing process and how a degausser works; it also provides lists of criteria for consumers seeking to buy degaussers. This includes explanations of new versus remanufactured or used degaussers and what a business interested in renting degaussers or hard drive erasers should look for. As a resource for government employees, Degausser.com also provides information on NSA- and DoD-approved degaussers.
In today's litigious world, every organization must be vigilant about how they discard any data, especially since the passing of laws such as the Health Insurance Portability and Accountability Act (HIPAA), Gramm-Leach-Bliley Act (GLBA), and the Sarbanes-Oxley Act. However, with data erasure and disposal, there is a learning curve. Degausser.com can help to bridge this need.
In addition to offering technical information about how degaussers and hard drive erasers work, Degausser.com will offer a question and answer blog that will respond directly to customers' questions.
About Data Devices International
Data Devices International, Inc., is a leader in the field of data security products and services, specializing in degaussers, hard drive duplicators & erasers, tape equipment, and industrial shredders & destroyers. More information can be found at http://www.datadev.com.
###