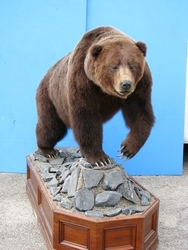 There is such a tremendous amount of stuff at this auction, it is a sure bet there will be lots of bargains
Fort Worth, Texas (PRWEB) April 10, 2009
A full body Hippopotamus hunting trophy, whose hide alone likely weighed half a ton, is one of 700 exotic and unusual taxidermy mounts being liquidated at auction in Fort Worth, Texas. The hunting trophies, animal rugs, fish and bird mounts being offered to the general public at the World Class Big Game Trophy & Western Auction are from private collections of three renowned big game hunters and two natural history museums.
What could be more stylish and "hip" than an enormous Hippo in your game room? "Your friends will likely talk about it for some time," said John Brommel, owner of the Corner Shoppe in Austin and sale organizer. Other enormous mounts are a huge shoulder mount Elephant and a 15 ½ foot Marlin. "It is twice as big as anything I have ever seen," said Brommel. Also of note in the sale is a rare Black Rhino shoulder mount formerly in a Texas museum valued at $15,000 to $30,000 and a pair of 6' elephant tusks weighing 70 lbs. each. In addition to animal taxidermy mounts, of which a large number are record book, the auction includes rustic décor items, cowboy and Indian collectibles, unique bronze animal and western statuary, bird taxidermy in various poses, such as a Peacock and Pheasants, and numerous fish taxidermy mounts like Sailfish, Walleye and Alligator Gar.
Of the hundreds of species offered there are 10 bears, including a standing full height Polar Bear, a standing Boone & Crockett Brown Bear and full body Black and Grizzly Bears. The sale contains about 40 full body mounts such as Bengal Tiger, Bongo, Baboon, Leopard, Civet Cat, Velvet and Colobus Monkeys, and African Lion. Some other species in the sale are Rocky Mountain Big Horn, Moose, Longhorn, Cape and American Buffalo, Elk, Caribou, Zebra, Wart Hog, Kob, Axis Deer, Gemsbok, Nyala, Mouflon Sheep, Giraffe, Whitetail Deer, Spanish Ibex, Dik Dik, Armadillos, Coyote, Bobcat, Mule Deer, Scimitar Horned Oryx, Nile Lechwe, Wildebeest, Springbok, Chamois and Red Hartebeest. There are also hundreds of small game animals like Badger, Coyote, Artic Fox, Cougar, Beaver, Raccoon and Austrian Opossum.
The rare and unusual items are suitable for display over a pool table or in beach homes, cabins, restaurants and bars. "There is such a tremendous amount of stuff at this auction, it is a sure bet there will be lots of bargains," said Brommel.
In the collectibles grouping are African swords and spears, lots of carved ivory, and skulls including Giraffe, African Lion, and Cape Buffalo. There are numerous high quality hides: Zebra, Springbok, Axis Deer, Alpaca, cowhides, sheep skins, Eel and Snake skins plus Grizzly Bear, Polar Bear and Lion rugs. The sale has an excellent selection of furniture and accessories such as framed art, trunks, cowhorn chairs, couches and footstools; coffee tables, blankets, bar stools, antler chandeliers and lamps, metal art, wagon wheels, cowboy and Indian collectibles like arrowheads, rattles and spears; Indian jewelry, knives, antlers and horns, Remington, Winchester and Weatherby firearms, chaps, spurs, saddles and fossils.
The auction is Friday, April 17th starting at 11am and Saturday, April 18th at 10am at the Will Rogers Memorial Center, 1 Amon Carter Square, Exhibits Building 1 in Fort Worth, Texas 76107. The preview is Thursday, April 16th from noon to 5 pm and Friday, April 17th from 10 am-11am. For more information visit TaxidermyKing.com or call John Brommel at The Corner Shoppe (512) 451-7633 or week of auction at (817) 338-4801.
# # #