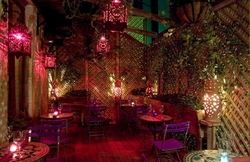 New York, NY (PRWEB) April 10, 2009
The popularity of online dating has had interesting, successful professional singles running "Google" searches for Mr. or Mrs. Right. The main issue with that is there's no "gut-feeling." Online dating eliminates those instant butterflies when you meet someone special. It's time to get back to basics, New York! Minute2Match is the perfect way to connect singles looking to start a relationship based on mutual face-to-face chemistry, compatibility and undeniable attraction.
Minute2Match brings a refreshing aspect to the speed-dating scene by partnering with unique, delightful and intimate venues. Nomad restaurant is the ideal venue to kick-off a series of events, Nomad Restaurant, is one of New York City's hidden secrets. From its seductive candle-lit setting, to its unique Moroccan wine list, and delicious North African French cuisine, this promising environment is ideal for igniting interesting conversations.
Each couple has 6 minutes of interaction before the signature Minute2Match chime that signals the time to move on to another interesting possibility. After each date, guests will be given an opportunity to indicate, on a provided scorecard, whether or not they felt a connection with that individual. At the end of the night, the Minute2Match team collects all the scorecards and check for mutual connections. When a match is found, Minute2Match will send notification of each other's contact information. Once a couple has been "Minute2Matched" they are free to explore their attraction, wherever it may lead.
This unique dating experience is available to singles and can still register online for $30. Those interested in registering may do so by simply visiting the Minute2Match site: http://www.minute2match.com/
For further information regarding Minute2Match events, please contact the event planning team: events(at)minute2match.com or visit the website http://www.minute2match.com for more information.
###