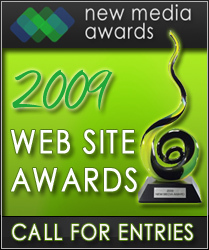 We're looking for the best of the best regardless of size, industry and budget. It's all about serving your audience's needs. The ability to produce dynamic and useful Web sites are within reach of most and our goal is to celebrate those savvy communication achievements
New York, NY (PRWEB) April 8, 2009
The New Media Institute (NMI) opened its 2009 New Media Awards Web Site Competition today. Web sites will be judged based on innovation, design, user-friendliness, and how dynamic they are.
"We're looking for the best of the best regardless of size, industry and budget. It's all about serving your audience's needs. The ability to produce dynamic and useful Web sites are within reach of most and our goal is to celebrate those savvy communication achievements," explained Barbara Eber-Schmid, NMI's Executive Vice President.
The competition closes on June 15, 2009. For more information on the awards, go to http://www.newmediaawards.org. This is the second component of the year long awards program.
The New Media Institute is dedicated to educating all about new media, serving as a resource, and promoting best practices. In addition to its New Media Awards program, NMI covers new media news, publishes white papers, and serves as a consulting team to promote new media and online use for all.
###