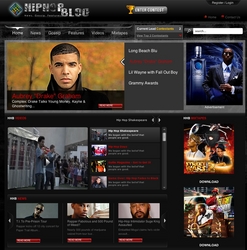 Become the Next Hip-Hop Media Mogul
Atlanta, GA (PRWEB) April 8, 2009
On Wednesday, April 8, 2009 at 12:01 am EST, the highly anticipated "Become the Next Hip-Hop Media Mogul" contest officially opens for registration. There is no purchase or fee necessary to enter or win. The contest gives the culture of Hip-hop fans, journalists, bloggers, artists, writers, producers, entrepreneurs and the like an opportunity to win the multimedia website http://www.hiphopblog.com. The contest is accessible to those in more than 200 countries and territories and will be awarded when it reaches the one millionth registered member, the Entry Period. The member who successfully refers the most friends who become members through the site's referral system will win the website. This marks the first time in Internet history that a full, operating website is being given away.
The HipHopBlog giveaway is a great opportunity in this economy where most people don't have the resources or risk-taking freedom to start their own business. The "Become the Next Hip-Hop Media Mogul" contest gives someone the opportunity to own a media network that is projected to be worth, based on comparables with one million registered members, several millions of dollars. Because the contest is one of skill, not chance, it is highly likely that the winner will be passionate about the http://www.hiphopblog.com Hip-hop culture. The website can be accessed at http://www.hiphopblog.com . The contest is open to those 18 years and older.
The marquee Internet domain name, http://www.hiphopblog.com, is the namesake of the entire Hip-hop blog category and currently as a generic term, returns more than 18 million Google results.
The contest is being supported strictly through sponsorship. Sponsors have the opportunity to support the contest by advertising to the Hip-hop community through the purchase of affordable ad space, rather than ads, for a little as $100. Ad space is priced by the pixel and sponsors may change their ad campaign as many times as they wish for a one year period.
About HipHopBlog.com: http://www.hiphopblog.com is a multimedia network of Hip-hop published news, features, gossip, videos and mixtapes. Members are able to access and comment on published content.
The contest is being administered by American Media Holdings, LLC (AM Holdings), a North American based new media IP holding company.
Contact:
Ceci Bush, Media Relations
pr (at) hiphopblog (dot) com
1-(800)- 373-4530
###