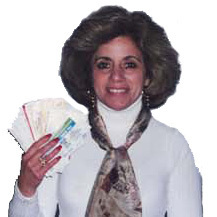 New York, NY (PRWEB) April 10, 2009
Susan Samtur officially launched her new coupon clipping service after several months of testing. The completely new web site introduces a membership based coupon service never before seen online.
The site was inspired by more than 30 years of couponing experience from the Original Coupon Queen, Susan Samtur. The brand-new super-site contains coupon articles, supermarket savings tips and free grocery coupons. "Selectcouponprogram.com gives consumers an edge when it comes to saving money at the grocery store," says Susan.
Susan's new site offers consumers $25 worth of grocery coupons of their choice every month, which equals a savings of $300 per year or $600 for supermarkets that double coupons. What makes the site even more attractive is that it contains over 400 coupon selections at any given time. This represents a wider coupon selection then all of the printable coupons sites combined. Selectcouponprogram.com has coupons for everything from Baby Products to Dog Food and everything in between. It is a one stop shop for all of your grocery coupon needs, plus if shoppers combine the coupons with Susan's tips they can easily save 50% on their weekly grocery costs.
According to Susan, "Many consumers are still unsure where to get the best coupons and those that do might not like clipping them out of their local flyer." Fortunately, there is now a new resource for consumers to get coupons and learn how to start saving money in one easy step.
Susan Samtur, author of the best selling book, Cashing in at the Checkout has been featured on Regis Philbin, Oprah Winfrey, and Good Morning America plus hundreds of other TV Shows. According to Susan, her site "clips coupons so you don't have too" which is one of the most time consuming parts of using supermarket coupons. "My coupon system not only saves me half of my annual food bill, but also allows me, through rebates, to receive over $2,500 every year in cash from manufacturers, which goes a long way during tough times."
"The site," she continues, "will help consumers save thousands each year on grocery products without ever having to pick up a scissors." To learn more about the program or get free savings tips visit her new site, selectcouponprogram.com or her magazine, Refundle Bundle.
About Susan Samtur the Select Coupon Program:
Susan Samtur is nationally recognized as the "Coupon Queen" and has been helping consumers save money at the checkout for over thirty years with her Refundle Bundle Magazine. She has written three books, Cashing in at the Checkout, Coupon Magic and The Supershopping System. Susan and her husband Stephen are the founders of the Select Coupon Program, which has been helping consumers save for over 25 years.
Contact:
Stephen Samtur, President
Select Coupon Program
914-592-1647
###