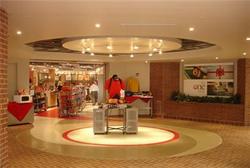 Yucaipa, CA (PRWEB) April 9, 2009
Concrete overlays have come a long way over the last several years and are now a preferred method for rehabilitating old, worn concrete surfaces. The growing interest in these systems has lead to an abundance of overlay products in today's market. Seeing a need clarification on the available products, ConcreteNetwork.com has updated its buyer's guide on concrete overlay systems. The guide offers an overview and comparison of available products, when to use each system and factors to consider when choosing a particular type of overlay.
The most important step in choosing a type of concrete overlay is to first recognize whether or not the intended surface is an ideal candidate for such an application. The guide offers more information on making this decision. Overlays are an ideal alternative to replacing an existing slab and the end result can completely transform an old, worn out surface into a brilliant looking floor.
The guide also outlines the top five types of concrete overlays. They include Stampable Overlays, Microtoppings and Skim Coats, Spray-Down Systems and Self-Leveling Overlays, each with their own unique characteristics and advantages, resulting in different desired outcomes.
One of the last topics offered covers the need to choose the right system for a specific project. The guide offers six important questions that should be asked when deciding on the best overlay system from the condition of the current surface, to what the desired outcome is.
For more detailed information on today's innovations in concrete overlays and concrete resurfacing systems, and supplies, visit The Concrete Network's concrete overlays supplies section for more extensive articles.
Read more about concrete.
Established in 1999, The Concrete Network's purpose is to educate consumers, builders, and contractors on popular decorative concrete techniques, applications, and products. This includes concrete stains, equipment, sealers, tools, and materials. Now in its 10th year, The Concrete Network Website had over 10.2 million visitors in 2008 researching decorative concrete.
The site excels at connecting contractors with concrete products suppliers through its Concrete Product Directory Concrete Products service. The service provides visitors with a list of decorative concrete manufacturers throughout the U.S. and Canada, as well as local decorative concrete supply stores.
Photos courtesy of Stephens and Smith Construction.
###