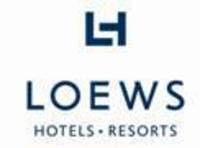 Our goal is to become a leader in educating and implementing the benefits of energy efficiency, both in the workplace and at home, through the ENERGY STAR partner program
New York, NY (Vocus) April 8, 2009
In a move that underscores its concern for and commitment to the environment, Loews Hotels has joined the EPA's ENERGY STAR program to improve efficiency across its portfolio of 17 hotels and resorts in the U.S. and Canada. ENERGY STAR – the national mark of excellence in energy performance – signals the company's rigorous efforts to reduce energy consumption and pollution in the geographic regions in which it operates. ENERGY STAR is a joint program of the U.S. Environmental Protection Agency and the U.S. Department of Energy which help companies protect the environment through energy efficient products and practices.
"We have gone well beyond switching out light bulbs, shower heads and toilets," said Joe Thomas, Loews Hotels' Director of Engineering, who is spearheading the company's long-range approach to energy efficiency. "In partnership with ENERGY STAR, Loews Hotels is aggressively making capital improvements that will increase our energy performance and result in annual savings of thousands of dollars in energy efficiency and maintenance costs."
Some of Loews Hotels' initiatives include:

Implementing a laundry waste water recycling program at eight hotels that reuses the 140 degree discharge water to now preheat cold water coming in to the laundry boilers to reduce water, sewerage and electrical use;
Installing power capacitor conditioners in seven hotels to efficiently utilize 100% of the power required to operate pumps and motors;
Installing variable frequency drive devices on large pumps and motors to reduce amperage and lower electrical demand and consumption;
Installing automatic CO2 systems in three parking garages which allow both supply and exhaust fans to operate based on constant air sampling of CO2 levels;
Implementing energy management strategies and products to monitor, reduce and maximize use of energy. All properties have energy management systems to control public area air handler equipment with weekly scheduling in place. Several properties also have the ability to control heating and cooling set points based on the outside air temperatures, which greatly increase the efficiencies of energy usage;
Implementing a comprehensive annual inspection process to ensure all boilers, chillers, air handlers, cooling towers, pumps and water treatment chemical levels are maintained;
At its three Orlando properties, an advanced energy management system is in place. The centrally controlled systems have the capacity to control occupied and unoccupied temperature set points to each individual room, chilled water temperature and hot water set points on central plant operations with one key stroke;
Several properties have upgraded in room thermostats to a more efficient digital designed system to reduce energy consumption by 10 -15 %.
Loews Hotels is also taking the message to the front lines, communicating the benefits of energy efficiency to its 7,000+ employees chain-wide by highlighting steps they can take at home to save energy. "Our goal is to become a leader in educating and implementing the benefits of energy efficiency, both in the workplace and at home, through the ENERGY STAR partner program," said Thomas.
A joint program of the U.S. Environmental Protection Agency (EPA) and the U.S. Department of Energy, ENERGY STAR is designed to help businesses and consumers save money and protect the environment through energy efficient products and practices. In 1992, the EPA introduced ENERGY STAR as a voluntary labeling program designed to identify and promote energy-efficient products to reduce greenhouse gas emissions. The ENERGY STAR label is now on over 50 product categories including major appliances, office equipment, lighting, and home electronics. EPA has also extended the label to cover new homes and commercial and industrial buildings.
Headquartered in New York City, Loews Hotels owns and/or operates 17 hotels and resorts in the U.S. and Canada. Located in major city centers and resort destinations from coast to coast, the Loews portfolio features one-of-a-kind properties that go beyond Four Diamond standards to delight guests with a supremely comfortable, uniquely local and vibrant travel experience. Loews boasts some of the industry's most innovative and successful travel programs, including Loews Loves Kids for families and Loews Loves Pets for discerning animals on the road. For reservations or more information on Loews Hotels, call 1-800-23-LOEWS or check http://www.loewshotels.com.
Emily Goldfischer
Loews Hotels
212-521-2833
egoldfischer(at)loewshotels.com
Michelle Colligan/Gabby McNamara
Redpoint Marketing PR, Inc.
212-229-0119
colligan(at)redpointpr.com
mcnamara(at)redpointpr.com
###