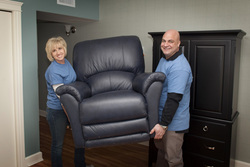 We felt so lucky to have everyone at La-Z-Boy take time out to help make families and their sick children feel comfortable, safe and supported during their stay at the House
Monroe, Mich. (PRWEB) April 10, 2009
La-Z-Boy is known for making homes more comfortable, that's why the company teamed with Ronald McDonald House Charities® to provide a home-away-from-home to families at a time when they need it most. Thanks to this commitment, two La-Z-Boy Furniture Galleries stores in Edmonton Alberta, Canada, delivered more than 260 pieces of donated furniture to the redesigned Ronald McDonald House® Northern Alberta, the first entire house furnished by La-Z-Boy since becoming the official furniture provider of the charity late last year.
More than 30 local store associates and employees from the Edmonton La-Z-Boy Furniture Galleries stores, led by store owner Mohammed Moussa, were on hand March 17 to deliver sofas, chairs, recliners, beds, armoires, desks, nightstands and much more, helping transform the newly-expanded House® into a comfortable home for those in need.
"The Ronald McDonald House Northern Alberta has shown an incredible commitment to serving and providing families of ill and injured children with comfort in every sense of the word," said Mohammed Moussa, owner of the two La-Z-Boy Furniture Galleries stores in Edmonton. "We hope that this new furniture can contribute in a small way to the sense of comfort and tranquility that Ronald McDonald House provides to families every day."
The ongoing La-Z-Boy contribution to RMHC includes annual furniture donations to all Ronald McDonald House programs and Ronald McDonald Family Room® programs in Canada and the United States, as well as cash contributions to RMHC.
"Everyone at La-Z-Boy is excited to see our partnership with RMHC come to life with this renovation," said Doug Collier, chief marketing officer of La-Z-Boy. "It's great to know that our furniture can help families feel a little more comfortable during their stay at Ronald McDonald House."
Furniture Donated
The Edmonton donation furnished the newly-remodeled 42,000 square foot Ronald McDonald House Northern Alberta.
"We are thrilled to have a House filled with comfortable furniture that will make our families feel at home the moment they arrive," said Larry Mathieson, executive director at Ronald McDonald House® Northern Alberta. "The staff at La-Z-Boy not only donated all of this beautiful furniture, they also donated their time and energy to deliver and assemble every piece. This act of kindness really goes above and beyond the call of duty."
La-Z-Boy volunteers spent the day moving and assembling furniture and preparing rooms to make the House a comfortable home.
"We felt so lucky to have everyone at La-Z-Boy take time out to help make families and their sick children feel comfortable, safe and supported during their stay at the House," said Mathieson.
About La-Z-Boy
Headquartered in Monroe, Mich., La-Z-Boy is one of the world's leading residential furniture producers. The company manufactures a full line of comfortable products for the living room and family room, including the company's world-famous recliners, reclining sofas and love seats, sleep sofas, modular furniture and leather upholstery, as well as stationary sofas, love seats and chairs. It is a division of La-Z-Boy Incorporated (NYSE: LZB), one of the world's leading residential furniture producers, marketing furniture for every room of the home. Comfort. It's what we do.SM
###