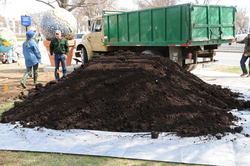 Compost is a big part of what makes organic farming work so well
Washington, D.C. (PRWEB) April 7, 2009
About the time that Chemical Ag spokespeople were chiding Michelle Obama for promoting home-grown organic food with her White House garden, compost from the Rodale Institute farm was landing on a new organic garden right in front of U.S. Department of Agriculture headquarters.
Since he jackhammered an asphalt walkway just off the National Mall in Washington, D.C., in front the USDA's Whitten building on Lincoln's birthday, USDA Secretary Tom Vilsack has taken a personal interest in developing the new People's Garden.
Delivering the compost was Jeff Moyer, farm director for Rodale Institute, Kutztown, PA. "Compost is a big part of what makes organic farming work so well," he said. "We're happy to donate a truckload of high-quality compost to biologically jump-start this welcome change in the USDA's front lawn. The Secretary wanted the garden to be certified organic, so all the inputs--including compost--need to conform to the National Organic Program standards." Moyer chairs the USDA's National Organic Standards Board, which provides input from the organic sector to the department's organic program.
Organic farming is an integrated systems-approach to sustainable agriculture that Moyer and thousands of other farmers have been improving for decades. The Institute is the birthplace of the organic movement in America, and its researchers have documented that organic farming techniques offer the best solution to global warming and famine.
"Our 60 years of research show that organic farming is the single most significant and immediate step we can take to curtail the potentially devastating effects of global warming," said Institute CEO Dr. Timothy LaSalle. "Organic farming delivers other environmental services, improves human health and builds biodiversity above and below the soil line to produce more nutrition per acre. Building soil organic matter saves soil, improves water quality and is the building block for greater nutritional density."
Rodale Institute is a 501(c)(3) nonprofit that creates global solutions from the ground up. We were 1947 by organic pioneer J.I. Rodale.
Regenerative Organic Farming: A Solution to global warming
http://www.rodaleinstitute.org/20080425/gw6
Good compost made better
By Christine Ziegler Ulsh with Paul Hepperly, PhD.
http://www.rodaleinstitute.org/20060413/ulshhepperly
Eds. - Photos available online:
http://www.rodaleinstitute.org/compost_pics/
CONTACT Greg Bowman
Communications Manager
610-683-1470
###