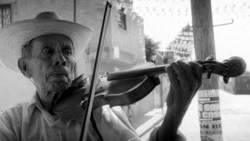 New York, NY (PRWEB) April 10, 2009
Link TV has announced the line-up for the fourth season of "Cinemondo," the nationally broadcast world cinema series hosted and co-curated by renowned festival programmer Peter Scarlet, who was recently appointed to the post of Executive Director of the Middle East International Film Festival (MEIFF) in Abu Dhabi. The new season features U.S. television premieres of an outstanding international line-up of independent films from Israel, Mexico, Russia and Turkey, and the first U.S. broadcast of a newly restored print of Youssef Chahine's classic masterpiece from Egypt, "Cairo Station."
"Cinemondo" will premiere on Link TV on April 11th, debuting one film per week through May 13th. Four of the five films presented on the channel will also be streamed for free, in their entirety, for one week at LinkTV.org/Cinemondo. Interviews with some of the directors will follow broadcasts, and will also be viewable on Link's website.
The following films will receive their U.S. television and online premiere on Link TV as part of "Cinemondo":
"Alexandra," Russia, directed by Alexander Sokurov
"Cairo Station"* (Bab el hadid), Egypt, directed by Youssef Chahine *not a premiere, will not stream
"The Violin" (El Violin), Mexico, directed by Francisco Vargas
"My Father My Lord," (Hofshat Kaits), Israel, directed by David Volach
"My Marlon and Brando" (Gitmek), Turkey, directed by Hüseyin Karabey
"This quintet of knockout films represents 'Cinemondo's' strongest season yet, and are probably five of the strongest films you'll find anywhere this year," remarked Peter Scarlet. "With the continued dumbing down of mainstream American film production, and with the increasing difficulty and expense of getting unusual films opened in movie theaters in any but the largest U.S. cities, 'Cinemondo' continues to be one of the only places on TV where American film lovers can connect meaningfully to the rest of the world."
"Cinemondo" was conceived and developed by Steven Lawrence, Link TV's Vice President of Music and Cultural Programming, who co-curates the series with Scarlet. Lawrence states, "'Cinemondo' continues to offer American television viewers the broadcast equivalent of a top-notch international film festival, complete with the kind of introductions and director interviews that have made Peter Scarlet one of the most respected film programmers and presenters in the world. In this season we're introducing the idea of Cinemondo Classics with the restored print of 'Cairo Station,' which has not been broadcast before in the U.S."
"Cinemondo" is co-curated by Peter Scarlet and Steven Lawrence, and was developed with the support of Link TV's film advisory board whose members are Michael Apted, Film Director and President of the Directors Guild of America; Bahman Ghobadi, Film Director; Danny Glover, Actor, Producer and Activist; Heddy Honigmann, Film Director; Tom Luddy, Film Producer and Co-Director of the Telluride Film Festival; Peter Saraf, Film Producer and Co-Founder of Big Beach Films; and Diane Weyermann, Executive Vice President for Documentaries of Participant Productions.
To access full "Cinemondo" film descriptions, air dates, photography and press materials visit the Link TV Press Room.
ABOUT LINK TV:
Link TV is the nation's largest independent broadcaster, devoted to providing diverse global perspectives on news, current events and world culture not typically available on other U.S. networks. Link TV regularly airs a robust selection of award-winning films and documentaries that explore the human condition from different multi-cultural perspectives. Through its "Cinemondo" series, Link supports the essential cultural role of world cinema by helping Americans better understand what is happening in the world.
A pioneer in news and current affairs programming, Link TV has been recognized domestically and internationally for its original news programs including the Peabody Award-winning daily broadcast "Mosaic: News from the Middle East," which monitors and airs unedited selections of news reports from more than 30 Middle-Eastern broadcasters, and "Global Pulse," which compares and contrasts news reports from around the world on critical issues. Link also offers its viewers original, innovative participatory programs promoting national and global citizen action. Most of Link's programs are available nowhere else on American television.
Link TV is a nationwide television network available in more than 31 million U.S. homes as a basic service on DIRECTV channel 375 and DISH Network channel 9410. Select programs are shown on more than 50 urban cable systems, including New York, San Francisco and Los Angeles. Link TV's original programs, music videos, documentary clips and artist interviews are streamed on the Internet at LinkTV.org.
For complete background information, program schedule, and internet streaming, go to LinkTV.org.
###