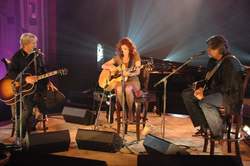 The Devil Went Down to Georgia
Nashville, TN (PRWEB) April 7, 2009
Legends and Lyrics, a new dynamic Public Television show spotlighting famous Artist/Songwriters alongside the not as well-known professional song poets behind the hit tunes, starts airing weekly this spring (in April and May-check local listings).
Most people can identify the singers of "The Devil Went Down to Georgia" (Charlie Daniels) or "Footloose" (Kenny Loggins). However, the average person may struggle to name the songwriter responsible for Helen Reddy's smash "Delta Dawn" (Alex Harvey) or the figure behind Alanis Morissette's "Jagged Little Pill", No Doubt's "Return of Saturn" and the Dave Matthews Band's "Everyday" (Glen Ballard), or the woman responsible for penning hits by Celine Dion's "Because You Loved Me" and Aerosmith's "I Don't Want to Miss a Thing" (Diane Warren).
In Legends & Lyrics, the established hit-makers and celebrated, yet lesser publicly known song-poets, come together on one stage to perform their best-loved songs. Over the course of their storied careers, these gifted composers, representing alternative, blues, country, pop, Americana, folk, rock and blended musical genres, quietly created the great songs that have driven the music industry worldwide.
In each episode of this innovative and entertaining series, award-winning recording artists, (including Kris Kristofferson, Kenny Loggins, Charlie Daniels, Patty Griffin, Shawn Colvin, John Hiatt, 3 Doors Down, Kip Winger and others) play in an "In the Round" setting sharing their most memorable songs and the inspiration behind them.
Up-and-coming recording artists and budding song-poets are also featured in a "Rising Star" segment. Viewers will hear The Laws, Stephanie Chapman, Corinne Chapman, Jonathan Singleton, Nathan Lee, Mike Musick, Will Hoge and more.
Legends & Lyrics blends these live performances from intimate performance halls (season one of the performance series was shot on location in Shreveport, Louisiana at the Scottish Rite Theatre, and Nashville, Tennessee at the historic Masonic Lodge) with interviews from each artist, all filmed in stunning 1080 high definition and surround sound.
Also woven through each episode are revealing one-on-one conversations with legendary artists (such as Garth Brooks, Loretta Lynn, Ray Stevens, Steve Cropper, Cowboy Jack Clement and others) who have left an indelible mark on the music industry.
Each show also features a "Did You Know?" segment retelling the ancient origins and interesting facts about today's commercial music. Every episode concludes with the "Tips of the Week" designed to pass along professional advice to aspiring artists/songwriters.
For additional information go to http://www.legendsandlyrics.com.
For more information on the series, individual episodes, interviews and high res photos contact Jayne Rogovin at jrogovin (at) bellsouth (dot) net.
Legends & Lyrics is produced and supplied by Song-Writers in the Round, LLC and presented by American Public Television. Season one, filmed in 2008, starts airing on Public Television Stations nationwide this spring (check local listings). Season two, shot this year, will run in the fall.
Song-Writers in the Round, LLC:
Song-Writers In The Round (SWITR), based in Nashville, Tennessee, is a production company dedicated to the mission of promoting the high art and craft of the professional songwriting community worldwide. SWITR is also committed to helping up-and-coming singer/songwriters learn their noble profession.
American Public Television:
With more than 10,000 hours of programming in its library, American Public Television (APT) has been a prime source of programming for the nation's public television stations for 47 years, distributing more than 300 new program titles per year series and classic For more information about APT's programs and services, visit APTonline.org.
Contact:
Jayne Rogovin
The Jayne Gang
PR Associates
1026 16th Ave South
Nashville, TN 37212
jrogovin (at) bellsouth (dot) net
615-403-2393
###