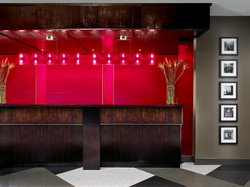 you want it, you got it
Nashville, TN (PRWEB) April 10, 2009
In celebration of April's National Diversity Awareness month, the Hotel Preston has launched two new packages designed to celebrate cultural diversity.
"The Hotel Preston celebrates diversity in all forms, whether it is social, cultural or spiritual," said Howard Jacobs, Chief Operating Officer of Provenance Hotels. "It is important to cater to all faiths and cultures, which is why we have developed packages such as the Gaycation and Culture Shock packages and offer amenities like our Spiritual Menu."
The Nashville hotel's Culture Shock package allows guests to immerse themselves in one of three cultures they may not be familiar with - German, French or Italian. Each cultural experience includes a bottle of wine from its respective country, a traveler's guide to the culture and a dining experience at the top Nashville restaurant for either French, German or Italian cuisine.
In addition to being culturally diverse at Hotel Preston, there is also a package that celebrates social diversity. The Gaycation package offers a dreamy getaway for same sex couples that want a romantic evening in Music City. The package includes a sexy gift package with romantic toys tailored to the couples, cocktails in the Pink Slip Lounge, breakfast in bed and a late checkout.
As an homage to religious diversity at Hotel Preston, a copy of the Spiritual Menu is placed in every guestroom. The Spiritual Menu contains a sampling of religious texts ranging from the Quran to the Torah and allows guests to order their spiritual book of preference. Guests can call room service to order their preferred book.
Pricing for Hotel Preston's Culture Shock and Gaycation packages begin at $169. Spiritual Menus are included in all guestrooms and book of faith requests are fulfilled at no charge.
About Hotel Preston
Situated in the heart of Nashville, Tenn., the Hotel Preston offers a luxurious experience for all travelers. It operates on a "you want it, you got it" philosophy offering a pet-friendly atmosphere, a pillow menu, down comforters, wireless Internet access, and even a lava lamp and pet goldfish if one desires. The Nashville Hotel is only minutes away from Opryland, downtown and the airport; shopping; sports; restaurants; art galleries and theatres, providing hotel guests easy access to all Nashville has to offer. More information can be found at http://www.hotelpreston.com. You can also check us out on Facebook or Twitter.
###