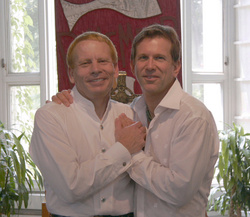 New Milford (Vocus) April 9, 2009
Spirit Journeys is very excited to announce a retreat whose time has finally come; a gay travel retreat dedicated to the male couple. In April of 2010, Spirit Journeys takes over an entire island off the coast of Belize for eight days in what can only be called a celebration for gay couples. This retreat is designed to allow couples to deepen and strengthen their relationship as well as a chance for relaxation and play.
The pace of the retreat will very leisurely and will offer ample free time for couples just to be together on this secluded island. After breakfast, the participants will meet as a group to explore such things as: keeping the fire alive in a relationship; does a relationship really require work; trust; fear; what it means to be a couple; acceptance; unconditional love; jealousy; and a host of other topics.
The afternoons will be free time, to allow participants to do whatever they want. Options include, but are not limited to: snorkeling, scuba diving, kayaking, sunning on the beach, fishing, swimming; taking a nap in a hammock, and much more.
After dinner, participants come together again to continue exploring themselves as individuals and themselves as a couple. There will be opportunities to learn new ways to deepen levels of mental, spiritual and sexual intimacy. The group sessions are not lectures or filled with the latest trend in psychology. These sessions will be exploratory, inspirational and experiential. Through discerning exercises and questions, attendees will be challenged to look deeply within themselves to discover things that hold them back from living a free and joyous life. If the individuals in a couple can live freer, the stronger they will be as a couple.
The retreat is being held on Thatch Caye, a 12 acre marine park just 9 miles off shore from Dangriga in south-central Belize. It has been deliberately scheduled during the full moon phase in April to take advantage of the opportunity to see whale sharks during snorkeling trips in the afternoons. Spirit Journeys is also providing a full day mainland excursion that includes cave tubing and a zip-line through the rainforest canopy.
For additional information on this or any of Spirit Journeys' special gay vacation options, contact Howie Holben or visit http://www.spiritjourneys.com.
About Spirit Journeys:
Spirit Journeys offers gay travel, vacations, retreats and workshops that offer play and relaxation as well as personal and spiritual growth. Call (800) 754-1875 to learn more about Spirit Journeys.
###