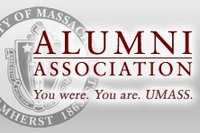 Amherst, MA (Vocus) April 10, 2009
The University of Massachusetts Amherst Alumni Association is proud to announce their 2009 Distinguished Alumni Award recipients, whose accomplishments will be recognized at a prestigious awards luncheon at the Massachusetts State House in Boston on April 16, 2009. University of Massachusetts President Jack Wilson and UMass Amherst Chancellor Robert C. Holub will address those in attendance prior to the awards presentation.
Those being honored include: for the 2009 Distinguished Alumni Awards, Edward M. Fouhy '56, media consultant; Margaret Jablonski '81,'84 MEd, vice chancellor for student affairs at the University of North Carolina at Chapel Hill; for the 2009 Distinguished Alumni Service Award, Michael Foley '72, assistant professor of medicine at Tufts University School of Medicine and a practitioner of gastroenterology at St. Elizabeth's Medical Center of Boston; for the 2009 Distinguished Young Alumni Award, Carmina Fernandes '99, attorney at law; for the 2009 Distinguished Faculty Award, Ting-wei Tang, UMass Amherst professor emeritus; and for the 2009 Distinguished Honorary Alumni Award, Joseph G. Gavin, Jr., retired director of Grumman Aerospace Corporation.
For more information about each of these remarkable individuals and their achievements, go to http://www.umassalumni.com/awards_grants/distinguished_recipients.html.
The Distinguished Alumni Award is the highest honor bestowed by the UMass Amherst Alumni Association on alumni, faculty and friends. Recipients of this prestigious award have translated their UMass Amherst experience into distinguished achievement in the public, business or professional realms and bring honor to UMass Amherst and to their field of endeavor. The UMass Amherst Alumni Association recognizes distinguished alumni annually at the Massachusetts State House in Boston.
The University of Massachusetts Amherst Alumni Association represents over 215,000 alumni around the globe, and provides programs and services to enlighten, strengthen and develop students, faculty, staff and alumni. For more information, go to http://www.UMassAlumni.com. For information related to this program, please call 800-456-8627.
If you are a journalist interested in covering the Distinguished Alumni Awards, please send a note of interest with your credentials to Andrea Robbins at andrear(at)admin.umass.edu, by April 13th 5pm. A limited number of passes are available for this event.
Media Contact:
Norma Heim
413-577-0312
njheim(at)admin.umass.edu
###