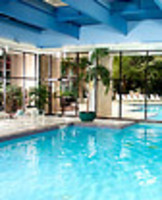 Atlanta, GA (PRWEB) April 9, 2009
Since the first "museum blockbuster," 1976's The Treasures of Tutankhamun, tens of millions of visitors have been fascinated by the relics of the mysterious and legendary King Tut - one of the most significant figures in Egyptian history. Now, more than 30 years later, the largest exhibition of King Tut artifacts outside of Egypt graces the Civic Center in Atlanta through May 17,2009.
In addition to the 50 objects from the tomb that Howard Carter made famous in 1922, this all-new exhibition also features objects from other ancient Egyptian rulers including Khefren who built the only one of the Seven Wonders of the World that is still standing, the Great Pyramid.
Travelers planning to visit the exhibition and looking for a hotel in Dunwoody should consider the Atlanta Marriott Perimeter Center Hotel. Conveniently located near the Atlanta Perimeter Mall, this affordable hotel is featuring special packages to help visitors discover the secrets of Tutankhamen, including:

Deluxe accommodations
Two V.I.P. King Tut tickets and audio tour for any date and time (even if the exhibition is sold out)
"Front of the line" access to the exhibition
Buffet breakfast, and
Complimentary hotel parking
Rates from $174 per weekend night
To take advantage of the special "King Tut" packages, please contact the Atlanta Marriott Perimeter Hotel at 770-394-6500.
###