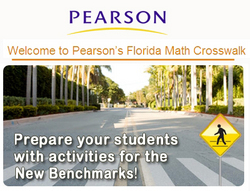 All Website activities, including video tutors to actively engage students, are designed to integrate with the new math programs Pearson is developing and customizing specifically for Florida.
Tallahassee, FL (PRWEB) April 8, 2009 -
Educators throughout Florida are performing a balancing act.
Caught between the state's current math standards and the new standards for assessing student performance starting in spring 2011, teachers are struggling to maintain continuity while preparing for the changes. Not an easy task.
To help Florida's teachers bridge this "crosswalk," the education and technology company Pearson is today announcing http://www.floridamathcrosswalk.com, an interactive website centered around activities that match current state standards AND the new standards to be implemented in 2011. The site includes videos, visual learning animations, problem-based interactive learning activities, and printables, games and puzzles so that teachers can familiarize themselves with what to expect in the future without sacrificing content they need for their students today.
Pearson's Vice President for Florida Debbie Campbell said, "All Website activities, including video tutors to actively engage students, are designed to integrate with the new math programs Pearson is developing and customizing specifically for Florida."
Campbell added, "We are 100 percent committed to ensuring success in math for our state's students and that is why these new programs are different by design -- intensely focused on student engagement and building problem-solving skills and conceptual understanding. Additionally, and so important to Florida's teachers, is the differentiated instruction in our programs that allows them to personalize learning for their students."
In June, Pearson will be submitting for state approval a wide range of research-based math programs at all grade levels from kindergarten through Advanced Placement, aligned to Florida's revised standards. New math programs will be in all Florida classrooms beginning in the fall of 2010. The Pearson programs include:

Scott Foresman enVisionMATH Florida for Grades K-5. An innovative, research-based curriculum customized to Florida's new state standards, the program is authored by a team of nationally-recognized experts, including: Dr. Francis "Skip" Fennell, a member of the President's National Mathematics Advisory Panel and immediate past president of the National Council of Teachers of Mathematics; and Dr. Randall Charles, past vice president of the National Council of Supervisors of Mathematics and Professor Emeritus, Department of Mathematics at San Jose State University. Now under development, Scott Foresman enVisionMATH Florida is centered on conceptual development and problem-solving skills, and exposing young students to algebraic concepts as early as kindergarten to build a rock solid foundation for math to ensure that students are prepared for the challenges of middle, high school and college course work. The new curriculum, with embedded support for English learners and a full digital path, is built on the concepts of the award-winning Scott Foresman envisionMATH, the #1 math program in schools across the country in 2008.
Florida Mathematics 1, 2, 3 for Grades 6-8. Customized specifically for Florida from Pearson's award-winning, research-based Connected Mathematics (CMP2) program, the Florida Mathematics curriculum for Middle School embeds mathematical concepts into engaging, interconnected problems, leading to higher-order thinking, problem-solving skills, and a deeper understanding of the math. The three-step "Launch, Explore, Summarize" approach helps students develop mathematical thinking and reasoning while practicing and maintaining skills. Students may access an interactive version of the textbook with built-in homework help, ensuring each student succeeds. A recent independent research study reported that sixth grade students learning with this program demonstrated significantly greater gains on the Iowa Test of Basic Skills (ITBS) and the Balanced Assessment of Mathematics (BAM) in problem-solving and math reasoning strategies than their peers learning with other math programs. Customized for Florida and aligned to the state's new standards, these programs will include both grade level and advanced programs, including Algebra 1 for the eighth grade honors course.
Prentice Hall Algebra 1, Geometry and Algebra 2 ©2011 Florida Edition - for Grades 9-12. Pearson's new Prentice Hall high school math series, developed for Florida and aligned to state standards, is designed to change the way students see math - how they engage in the mathematics, how they understand the concepts and how they can transfer those skills to tests, college and life. The Florida Editions of Algebra 1, Geometry and Algebra 2, including the Honors Gold Series, are a blend of print and digital components that create an engaging learning environment that supports all students and teachers at the level of technology where they are comfortable. New tools, new insights and new ways of connecting to the world put more power in the hands of teachers to digitally reach each student at his or her own level. Florida high school students have created numerous chapter opener videos that will become part of this customized curriculum.
For high school students, Pearson is also submitting 13 additional courses, including two programs for students who need more help in Algebra and 11 elective and advanced placement courses for: Pre-Calculus, Calculus, Advanced Algebra, Trigonometry, Statistics, Mathematical Analysis, Personal Financial Literacy and Liberal Arts Math. All programs are offered with the additional option of MathXL® for School, the most widely used online homework, tutorial and assessment system in U.S. colleges and universities and now available to the high school market. MathXL for School also offers universal courses for Algebra Readiness, Algebra 2, ADP (American Diploma Project) Algebra II and College Readiness. Courses in Algebra I and ADP Algebra I will be available in the summer 2009.
Pearson's Debbie Campbell noted the following previews now available on the http://www.floridamathcrosswalk.com website:
Author Videos - The http://www.floridamathcrosswalk website includes video clips from Pearson authors with personal messages to Florida teachers. In several videos, Dr. Francis "Skip" Fennell discusses how he and the National Council of Teachers of Mathematics worked together to create the Math Focal Points; how Florida has embraced the Focal Points in its standards; the importance of a focused, coherent curriculum as part of the findings of the National Mathematics Advisory Panel findings; and how looking at international math programs that have been successful helped inform the creation of the new Pearson programs.
Professional Development - http://www.floridamathcrosswalk.com also includes links to the myPearsonTraining professional development website for on-demand in-service training and access to tutorials and videos. myPearsonTraining is now enhanced by Twitter, a free online service creating a web teacher community for exchanging messages.
Video Games - The http://www.floridamathcrosswalk.com website previews the new DimensionM immersive video game from Tabula Digita, powered by Pearson. Now under development, the full extension of DimensionM will feature content customized for Pearson's math programs for Florida's elementary and middle school students. The interactive, 3D gaming format takes students on action-packed missions featuring adventures embedded with critical mathematics concepts from Pearson's research-based curriculum. The immersive digital game experience creates a virtual reality that motivates students to learn mathematics, develops critical thinking and problem-solving skills, increases time on task, and draws on mathematics content students learn in class.
About Pearson and Florida
Pearson (NYSE:PSO) has been providing learning materials to Florida schools for more than 100 years. As the world's leading education and technology company, you may know us individually as Scott Foresman, Prentice Hall, Longman, SuccessMaker, NovaNet, PowerSchool, Educational Measurement, Educational Assessment, SuccessNet, and so many more - names in the world of education that are recognized and respected across the state and the globe. We provide education and testing materials from birth through professional learning as well as the complex management systems that maintain student information data for thousands of schools. Our Pearson people are living and working in every school district across the state, and visiting teachers, principals and curriculum directors every single day. In fact, most teachers in Florida have learned their profession by studying with Pearson's Merrill or Allyn & Bacon textbooks, and many have benefited from our professional development programs.
We are your education partners today, tomorrow and for the future and will continue to invest in the very best instructional materials, teacher education, technology advancements, and services to help you and your students achieve success for generations to come. Like Florida's educators, we are stable, resilient and unwavering in our commitment to our children. The challenges of today's economy will not deter us from our mission to create innovative educational solutions customized to align with Florida's standards for 21st century learning. For more information, visit http://www.floridamathcrosswalk.com or http://www.pearsonschool.com.
Contact:
kate.miller @ pearson.com
800-745-8489
###