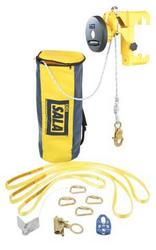 Remember, during an emergency every second counts
Red Wing, MN (PRWEB) April 9, 2009
DBI-SALA, a Capital Safety brand, introduces the Rollgliss® R500 Rescue and Escape Device, which provides a unique solution for emergency rescue and evacuation from a wide range of elevated work areas after a fall has occurred. The Rollgliss® R500 offers the choice of controlled descent rescue, emergency evacuation or the versatility of assisted rescue with lifting capabilities.
The Rollgliss® R500 is the result of 50 years of experience in the manufacture and practical use of safety and rescue systems, and has been examined and tested in adherence to OSHA and ANSI requirements. The system is ideal for such industries as Wind Energy, Oil and Gas, Utility, Telecommunications, Fire and Emergency Rescue, Commercial Construction, General Industry, Government and the Military.
The system can be used for rescue and evacuation from heights up to 1,000 ft. (300m) for one user 310 lb. (140kg) or 330 ft (100m) for two users totaling 550 lbs. (248kg). During assisted-rescue scenarios, a fallen worker can be attached to the R500 device, raised to a point that allows their fall arrest device to be removed, then lowered to the ground safely. It features 9.5mm static kernmantle rope, and is configured with connecting hardware at each end of the lifeline. This configuration allows the R500 to operate in both directions - one end of the lifeline descends as the other ascends readying the system for another rescue. View Rollgliss R500 in action.
"Remember, during an emergency every second counts," says Charley Bryant, product manager for hard goods with Capital Safety. "The Rollgliss® R500 excels in handling, technology, function, safety and versatility - even under the most difficult conditions."
Capital Safety, the world's leading designer and manufacturer of height safety and fall protection equipment with 9 operating sites worldwide, is home of the DBI-SALA and PROTECTA brands. All of Capital Safety's fall protection and rescue systems are backed by the best training, technical assistance and customer service in the industry. For more information, contact Capital Safety at 800-328-6146, 651-388-8282 or visit them on the web at http://www.capitalsafety.com.
# # #